Time for a WooCommerce slow store case study! This WordPress site under the microscope helps parents homeschool their children with useful educational materials like worksheets.
As you can imagine, during the 2020 pandemic homeschooling became pretty popular and still is.
Deb has run her homeschooling help site for years. Now it was getting more attention than ever!
She has over 150 courses and more than 40,000 members on her site.
Deb servers 1786 downloadable PDFs like worksheets, homeworks and planning materials to help parents and kids.
Deb is a content producing powerhouse but her site was timing out and crashing.
Learn how we helped Deb get her site loading in 1 second instead of 44 seconds 🙂
Deb has 66 plugins installed on her WordPress site running WooCommerce with memberships for the homeschooling parents!
Major Website Health Symptoms
Here were some of Deb's main frustration points. Her slow site wasn't just affecting her productivity, it was hurting her bottom line and her valued customers: parents of young children.
These parents are already stressed out due to the pandemic circumstances. Now they are extra frustrated waiting over 40 seconds to get a math worksheet for their kid!
Some quotes from Deb during our initial conversation:
"When I try to log in to my site and try to update posts, content or manage orders, I get timeouts and the site crashes."
Us: Ouch, that sucks!
"Parents are complaining they cannot download the teaching materials for their children."
Us: we need to get that sorted ASAP.
"Pages are taking over 40 seconds to load for my visitors and for myself."
Us: OMG that is awful, we'll find out what is causing it – whatever it takes!
One of our main drives for helping you amazing clients is reducing stress and frustration.
When your website is crashing, unstable and slow, life really sucks. It affects your life negatively in so many ways.
Not sleeping well because you are worried the site is going to throw random errors.
You are spending so much time on support and mending client relationships instead of on growing your business.
The frustration and stress can affect your mental and physical health.
This is where we can help!
The stories we hear after troubleshooting site performance are really heart-warming.
Knowing that the stress is gone, your cusotmers are happy, you are sleeping well and focusing on your business – this feeds our souls!
Trying to make the world a better place one website at a time 🙂
Website Troubleshooting Approach
We take a holistic approach to troubleshooting WordPress and WooCommerce so we can cover all of the major culprits.
New Relic audit – we are certified (verify here)
Server audit – we have sysadmin skills!
Plugin audit
Theme audit
Database audit
Infrastructure audit
Website Troubleshooting Diagnosis
After our emergency differential diagnosis approach, we found the following issues
Multiple database problems with the engine and resource allocation
Server configuration issues
Infrastructure problems
Plugins misbehaving and causing trouble!
Here are some New Relic screenshots showing how bad the performance was once we got started.
A 44 second average response time from the server hosting the WooCommerce store :O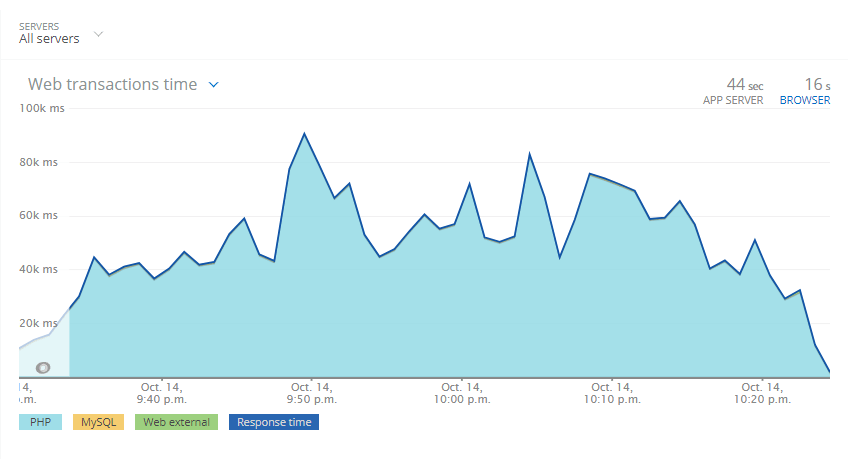 There were plenty of slow page requests to analyze taking anywhere from 51 seconds to 111 seconds – almost 2 full minutes!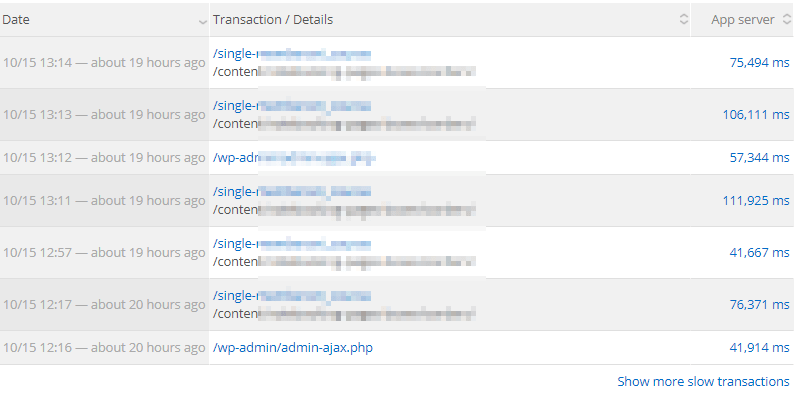 Look at these WordPress admin-ajax requests taking 28 to 57 seconds – almost 1 full minute!

The database had plenty of slow WooCommerce query calls that weren't helping at all.

Postmeta is commonly slow on WooCommerce as well, this one was taking 6 seconds!

Let's see how our fixes helped the performance of Deb's site!
Website Troubleshooting Results
In less than 1 day the site was performing significantly better thanks to the emergency patches we put in to reduce the processing times of AJAX requests.
After the 2nd day, we migrated the site tuned the server, Deb's helpful store was flying like it never had before!
Take a look at these New Relic screenshots. The performance improved significantly.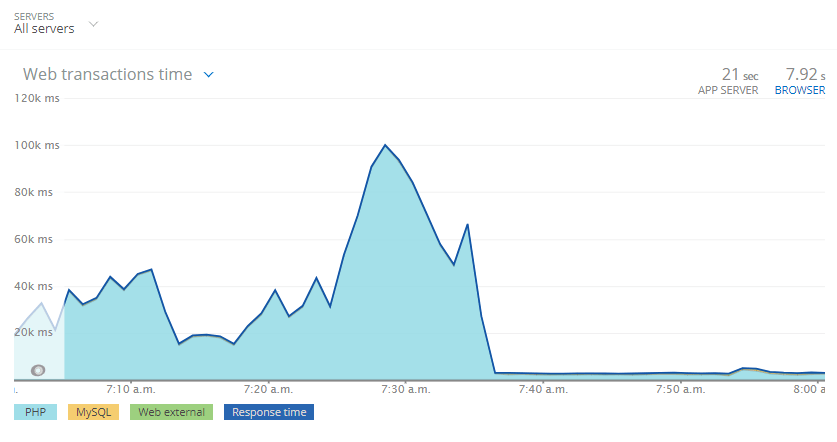 For the admin-ajax.php requests you can barely see the purple at the bottom.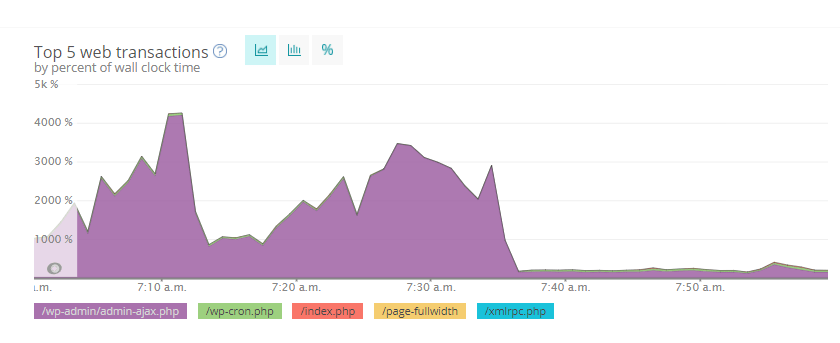 The application response time is now only 1.2 seconds down from 44 seconds.
200 ms of the 1.2 seconds is from external requests to an email provider.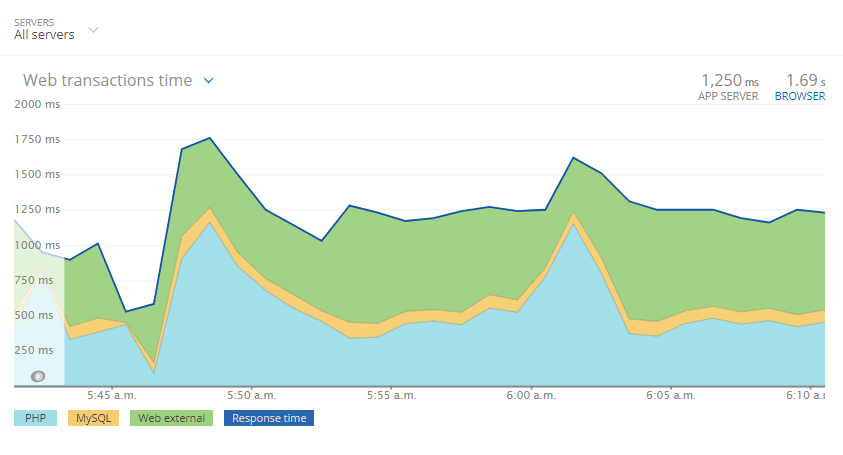 Deb said "Wow", we echoed her sentiment 😀
Parents no longer have to wait to download the latest math worksheet or geography homework.
Deb is sleeping normally and focusing on creating new amazing content instead of worrying about her site crashing or becoming super slow.
Overall stress and frustration from her WooCommerce store is down significantly.
The last thing any of us need in 2020 is more stress and friction in our lives.
Please don't let your website or WooCommerce site be a source of stress, let somebody help. You deserve help 🙂
Conclusion
As we've pointed out in our thorough why your site speed still sucks post, website performance is often a complicated puzzle.
Usually, there is not just one solution to your performance problems but several solutions.
Sometimes one major bottleneck is covering up another major performance problem lurking in the shadows.
Our troubleshooting approach leaves no stone left unturned. We find any and all critical performance problems and eliminate them one by one until you are happy with the stability and speed of your website.
Get help troubleshooting your WordPress site to see how we can get your site back on track!
#TroubleshootwithHeart♥