Would you invest $10,000 once to make $60,000 extra in revenue every month? Seems like an easy decision, right?
Humans tend to make things harder for themselves, especially when an outcome isn't guaranteed.
Jori first contacted us in January 2022. His store was timing out and crashing when they ran sales promotions.
It's really difficult to make money online when your e-commerce store doesn't work properly.
Jori was determined to fix the problem himself, a common performance pitfall we see from clients.
6 months later, Jori hadn't resolved the issue.  He was stressed out and frustrated. We fixed the problem within a week!
I had several calls with Jori before he hired us officially. One call was on a plane on my way home from a web performance conference. Jori was really on the fence about making this investment, it felt very risky to him because there was a lot of uncertainty.
One thing was certain, the store was losing money.
Peter Drucker reminds us that "all profit is derived from risk."
Read on to see how Jori progressed in his performance journey.
Background – the Performance Challenge
Jori and his team ran a sale every month.
Sale days used a multi-channel traffic approach. These sales are a main revenue driver for the store.
There's just one major problem – slow stores that show errors instead of products, carts and checkout pages don't make any money – no matter how much traffic you send to them.
You are just flushing your ad budget spend down the toilet if your site is unable to handle the load and traffic flawlessly.
The ROI on your marketing budget will be severely limited if your site doesn't perform without errors or severe slowdowns. Users will give up shopping and go do something else.
The dossier for sales days:
Newsletter to over 5000 loyal subscribers and eager shoppers
Facebook Ads cranked up
Google Ads fill in any gaps
The WooCommerce store would crash when these marketing dials were turned up – 502 and 504 errors from nginx. Plenty of users could not buy anything and left the store frustrated having wasted their time and energy.
They use a top quality host. Managed hosting, they were paying over $1000 a month.
Jori attempted a custom caching solution to handle logged-in users and paid visitor traffic from PPC advertising. It didn't work as expected.
They could address the page caching for incoming PPC traffic but then they lost their marketing analytics – meaning they didn't know what traffic source was converting or not!
We wanted to help get the best of both worlds – retain marketing analytics data and make pages faster including the LCP by improving TTFB – pages would now be cached for all incoming visitor avenues.
The Performance Solution
To help address the 502 and 504 errors visitors saw on sale days, we did the following:
Forensic troubleshooting audit to identify key issues and bottlenecks: Sample Audit
Custom WordPress plugin to enable handling of logged-in user cache
Tailored server-side caching solutions to reduce TTFB, lower server resource usage and retain marketing analytics
Database resource adjustments
Scheduled task investigation and cleanup in wp-cron
Identify heavy plugins using New Relic and custom WP-CLI scripts, then disable their resource-hogging features and settings
Results after Optimization and Intelligent Page Caching
Caching is a powerful scaling solution when done correctly!
✔️ Marketing strings retained
✔️ Pages made way faster, TTFB improved
✔️ LCP improved
✔️ No more 502 or 504 errors
New Relic average server response time improved from 2.5 seconds down to 1.5 seconds.
New Relic before – 2.5 seconds

New Relic after – 1.5 seconds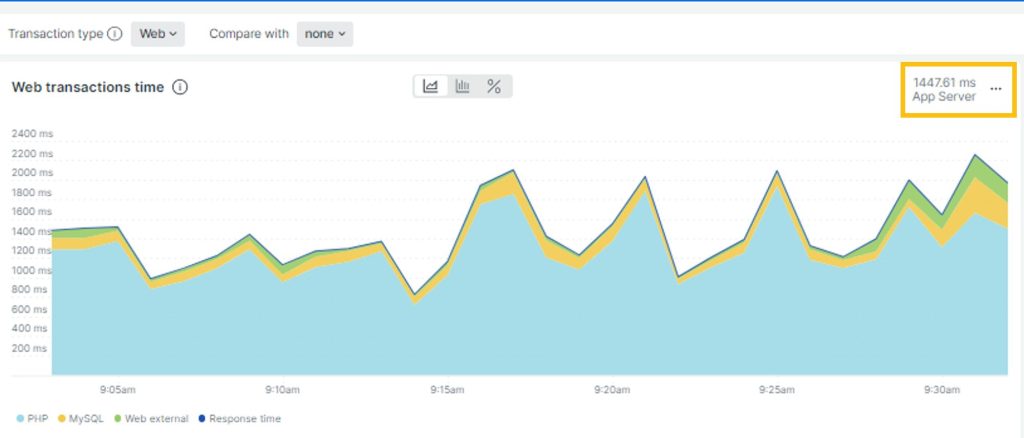 Here is the data Jori provided from Google Analytics which compares a sales day in June (before optimization) to September after the optimizations.
TTFB went from 2.40 seconds to 0.40 – that's an 83% improvement.
Page load time improved from 7.2 seconds to 3.8 seconds which is a 47% reduction.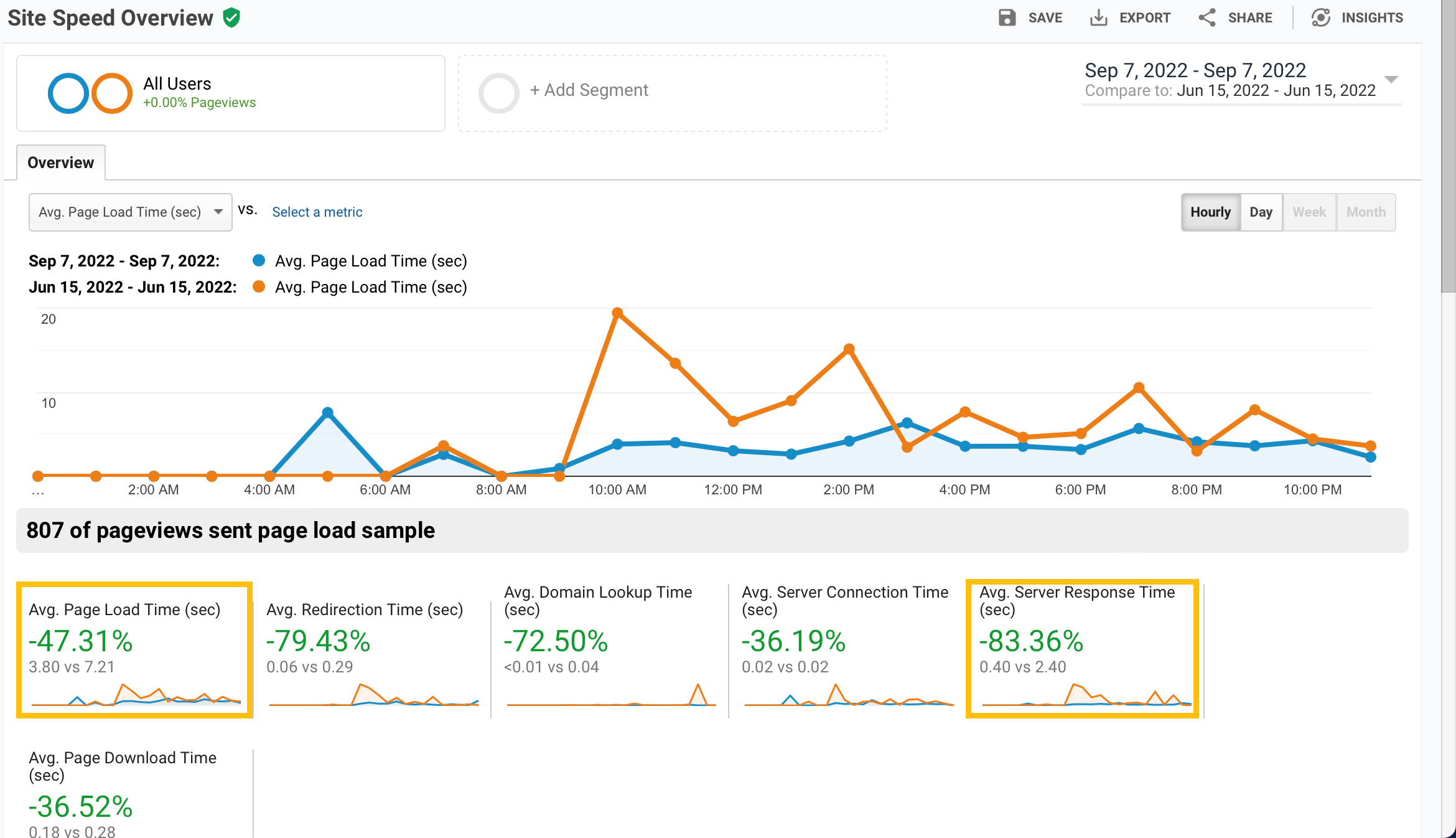 Revenue increased 183% – this is almost triple the revenue on sale days.
In simple terms, if the original sale was earning $20,000, on the next sale day they earned $57,000 which is a $37,000 increase!
Conversion rates increased 58% from 2.47% to 3.92% – that's amazing.
On this particular sale day, they made over 400 sales instead of just 149! More than double, closer to triple 🤯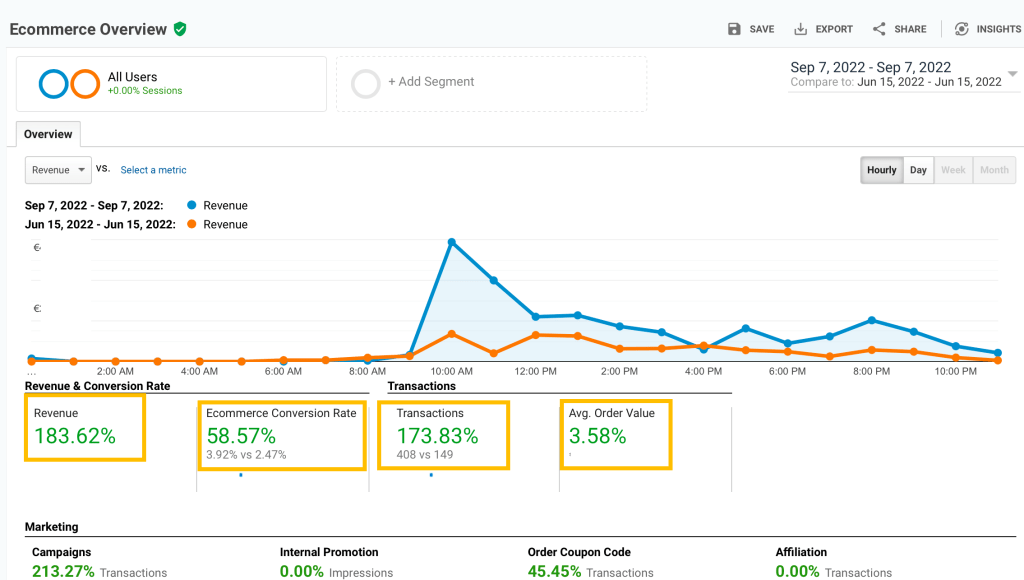 ✔️ TTTB server response time reduced and page load time improved
✔️ LCP improved which helped improve revenue – calculate your ROI from LCP improvements here
✔️ resource usage down – meaning server has more power available to process transactions
Quotes from the Client
I followed up with Jori a few times, here are some quotes from our email correspondence.
Mike: "Did you get ROI from our project?"
Jori: "Yes, we definitely got the ROI and are very happy with the decision we made! The only mistake we made here, was that we didn't start working with you way earlier :D"
Mike: That's awesome news! Can you quantify the ROI somehow?
Jori: Yes, we get a 5x ROI from your performance work every month"
Every month, forever!
Jori was on the fence about moving forward with the performance audit and caching solution. He waited 6 months, trying to fix everything on his own before hiring us. Jori estimated that he lost over $360,000 in revenue from this indecision.
Inaction costs you money, some risks are worth taking. Performance pretty much always pays off!