Adrien from I Speak Spoke Spoken (i3s for short) came to us with an unbelievable story about his WordPress site speed.
Like many clients, Adrien had concerns about passing Google's Core Web Vitals because almost 300 URLs were failing.
He was met with this screen declaring, "Your site has no URLs with a good experience" – OUCH!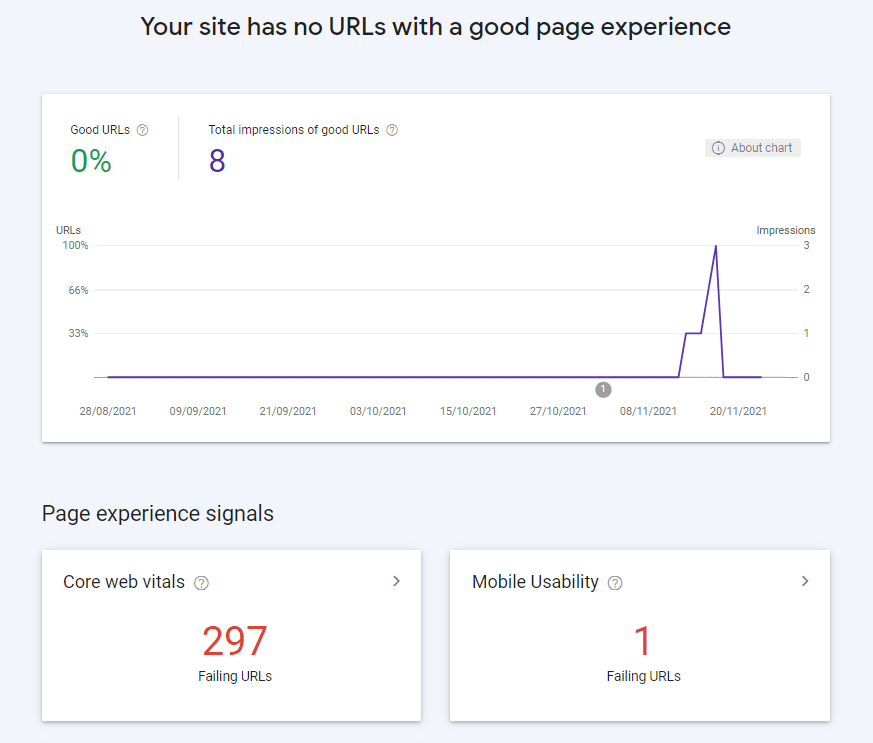 A big fat goose-egg, 0, none, nada pages were acceptable in Google's eyes.
Here comes the unbelievable part.
Adrien had hired a freelancer on Upwork to optimize his web vitals. The freelancer completed the job, showed him some Google PageSpeed Insights reports that boasted scores of 99-100.
Adrien was thrilled!
Convinced he made a great decision, he could go back to focusing on content creation.
But Google Search Console continued to complain that no pages were passing Core Web Vitals.
Months went by and nothing had changed. Adrien was beginning to worry.
Adrien learned this was a common scam in the WordPress performance sphere.
This guy on Upwork had scammed countless people out of their hard-earned money by promising excellent PageSpeed scores (this kind of cheating strategy which was picked up by WPTavern – don't copy what Volkswagen did to cheat tests!).
These kinds of people ruin the internet – see the full expose here – what a dick!
Before Core Web Vitals Optimization
After Adrien told me his story on our intro call, I was blown away and felt extra motivated to help him on his performance journey.
The major issues were related to Cumulative Layout Shift and Largest Contentful Paint which are the 2 most common vitals to fail across the sites we encounter.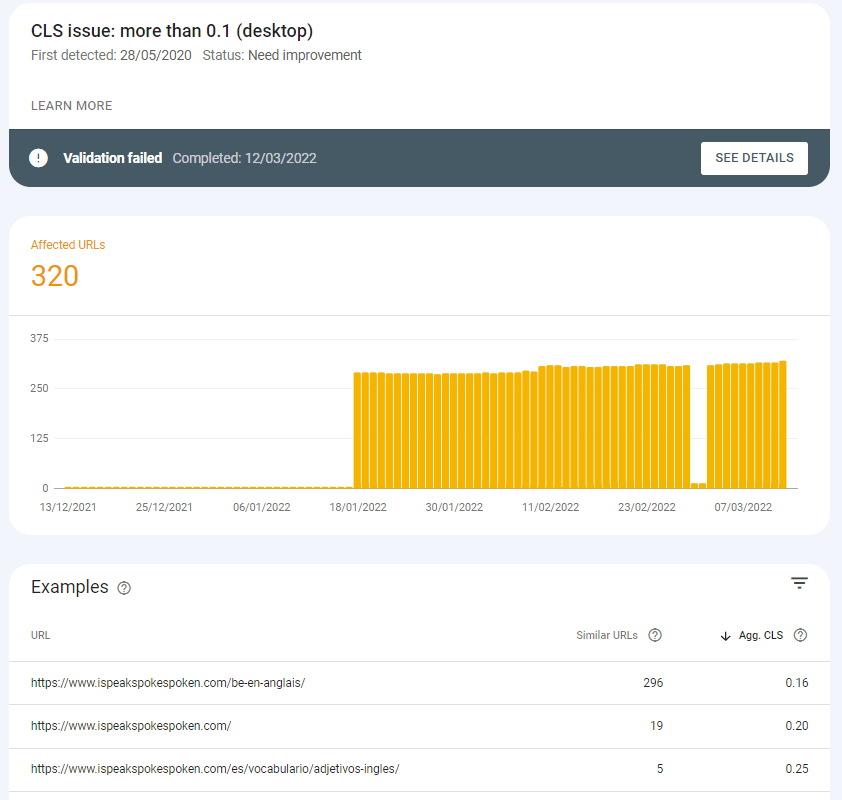 We offered Adrien our full audit service so we could forensically examine his site and provide actionable recommendations about how to fix everything we detected.
Adrien has a great partner who was keen to learn and put all of this knowledge into practice, they are both very lucky to share similar passion levels for their work!
Core Web Vitals Audit Results
In the audit, we found the following pressing issues:
The theme was a huge mess, bloated and inefficient code was loading all over the place. It had to go.
Images were being delivered in a roundabout way, they weren't at their optimal size or displayed on-demand for visitors.
The database had a bunch of unnecessary garbage in it that was sucking up RAM on the server, increasing the TTFB (Time to First Byte).
Some plugins were so heavy, they were blocking the browser's main processing thread for 5 seconds!
A plugin was occupying CPU constantly which we were able to detect thanks to the useful hosting dashboard tools.
The CDN was underutilized and negatively affecting the TTFB and LCP.
As always, we provided very specific guidance about what to do, how and why on our 2-hour discussion call. The post-audit calls are so enjoyable, we get to see site owner's faces light up when they can finally see what the issues are and how they can be fixed. Experiencing developers on the call who absorb all the knowledge like a sponge is such a joyful experience.
Core Web Vitals After the Audit
Adrien's team cleaned the database as we instructed.
They replaced the bloated plugins with lighter options we recommended.
The theme was replaced with a light version that eliminated the unnecessary code.
Imagine the excitement when the Google Search Console started tracking changes for mobile and desktop visitors.
Adrien is such an amazing client. He was willing to invest to in his business, take a calculated risk and embrace change instead of resisting it. 2 months later, after some advanced training and utilizing the findings and teachings from the audit, they were empowered to get all green scores and vitals.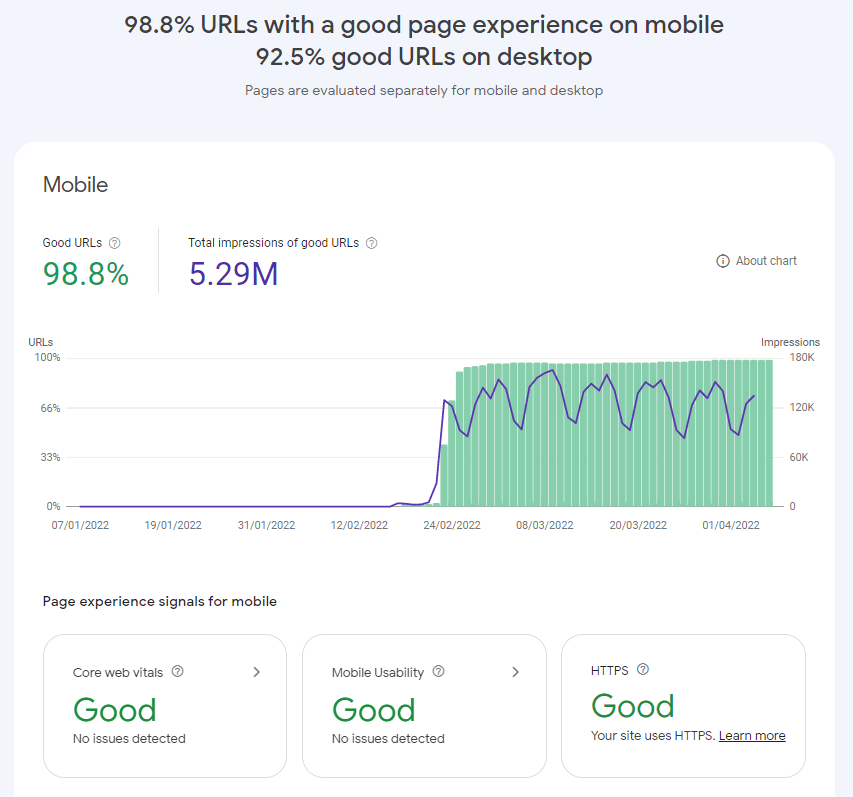 We did have to help with a complicated CLS issue, but besides that Adrien and his team were able to complete the optimization procedure themselves!
Now, even months later, the site is happy and healthy because doing performance optimization from the ground-up yields lasting results 🙂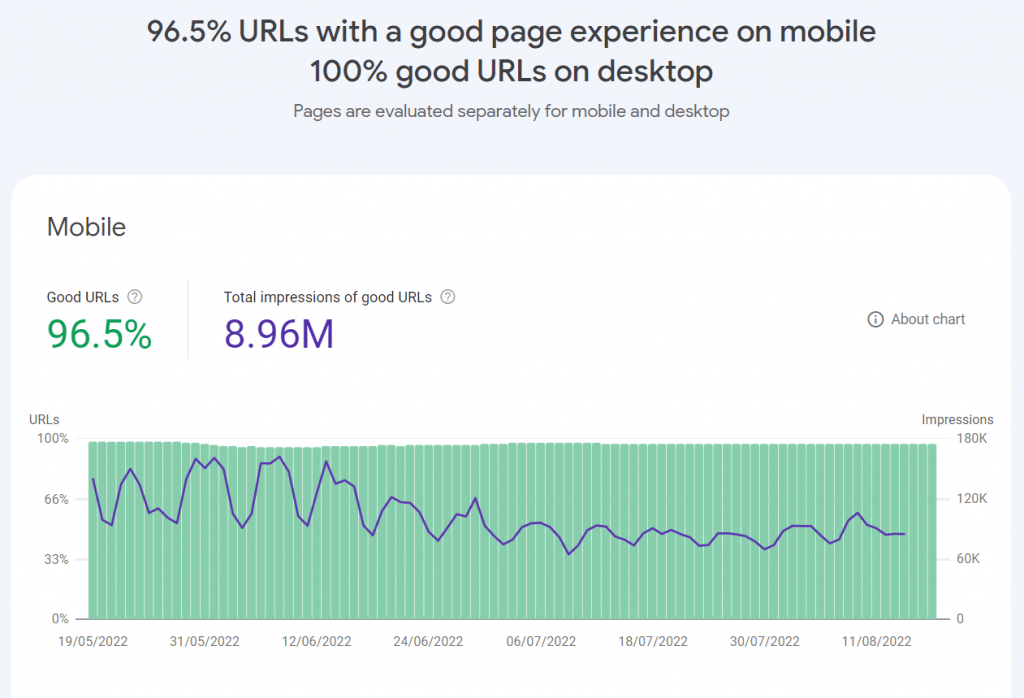 Did organic traffic increase after improving Core Web Vitals?
Their SEO team shared the following details.
Our engagement started in February 2022 where we had the following SEO campaigns and tasks:
Speed of the website – specifically core web vitals
Improve the UX and design of the site
Improved authority
Publish new content each week
Constantly revamp old content
They saw a 30% increase in organic traffic during the last 3 months (June to August 2022) compared to last year in 2021.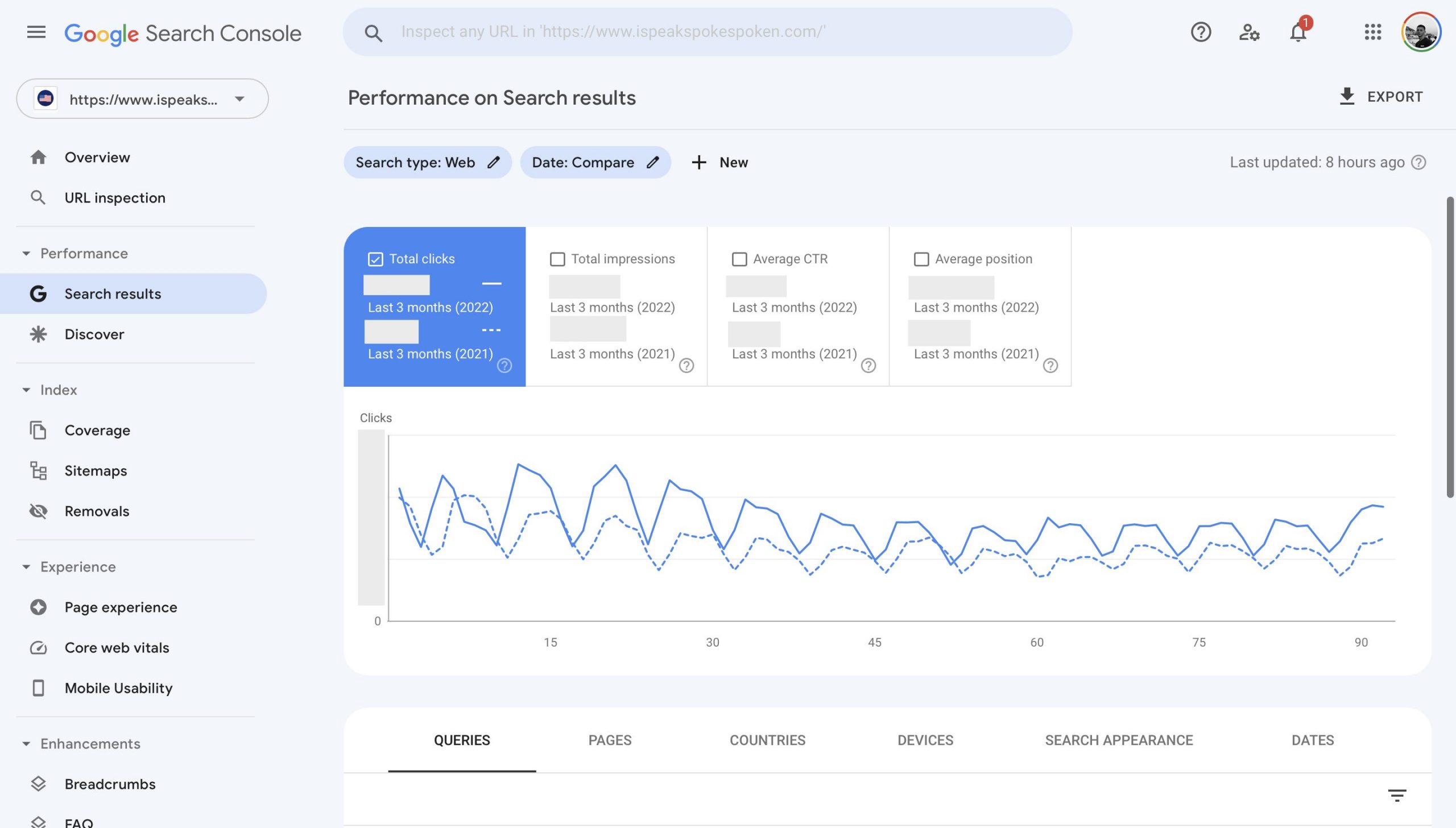 Ahrefs shows a very clear trend over the last year from August 2021-August 2022.
In August 2021 there was an average of 58,941 organic visitors.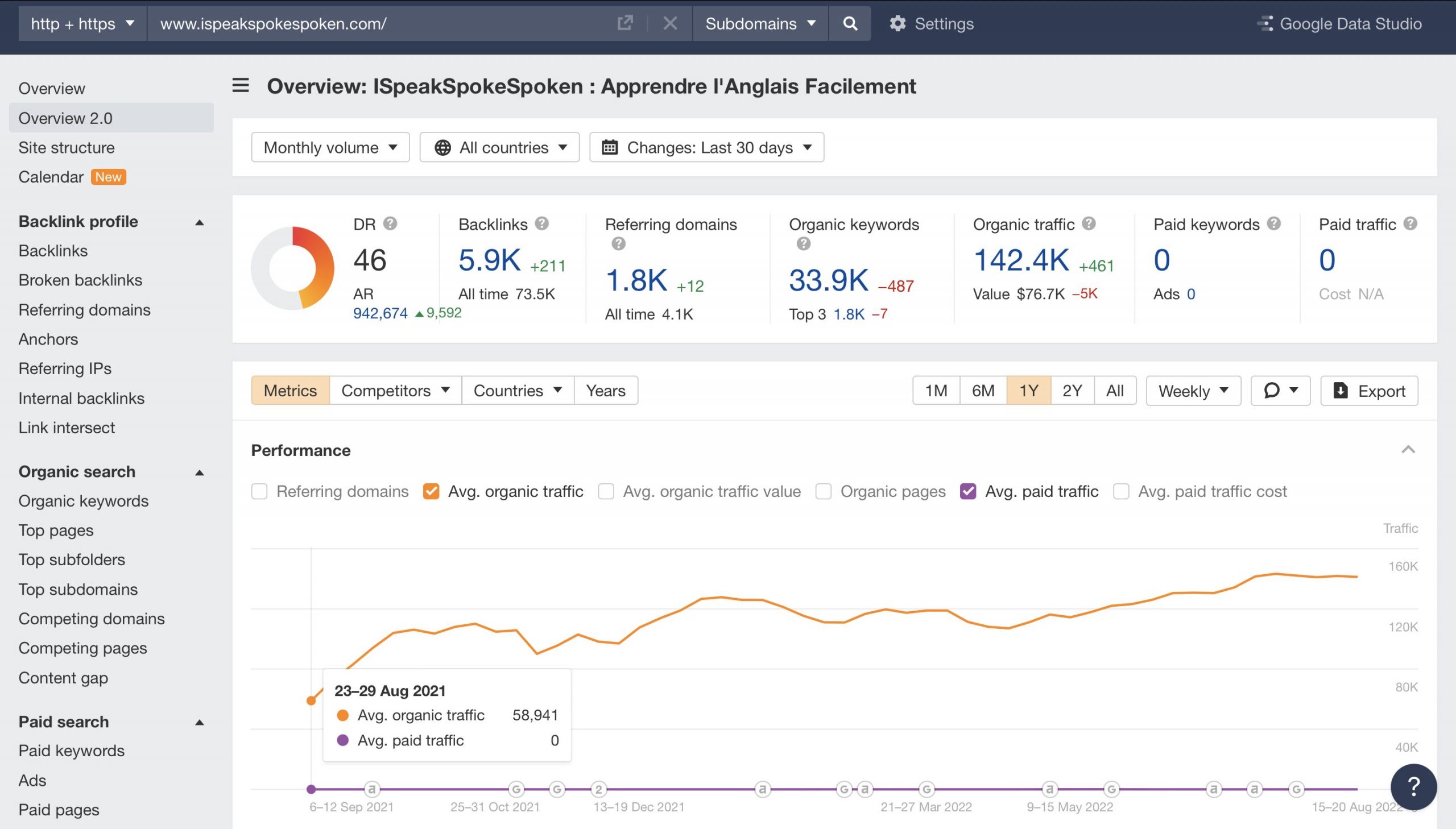 In February 2022, organic traffic was at 115,335.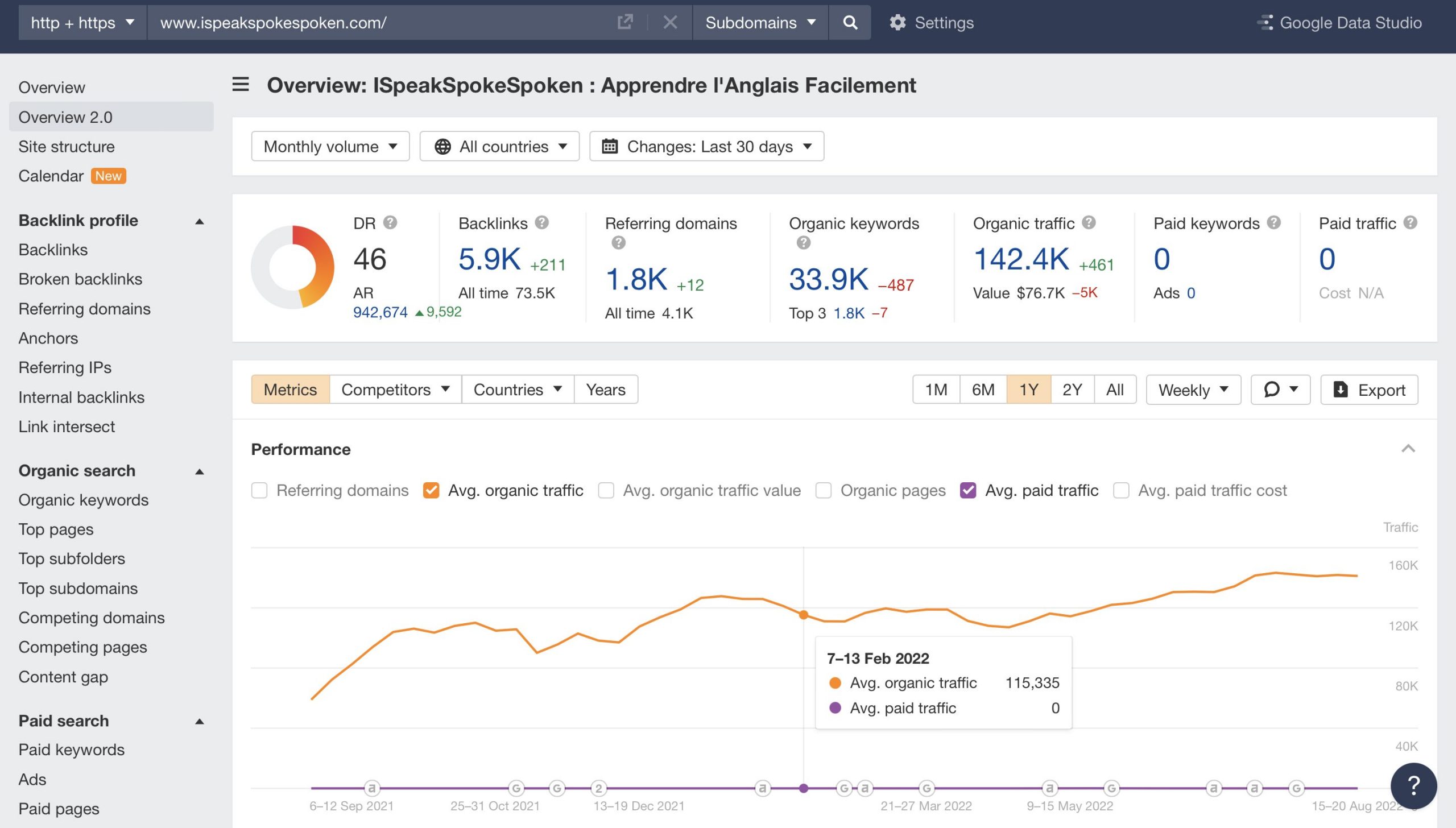 Then in August 2022, organic traffic was 142,218 – that's quite the change!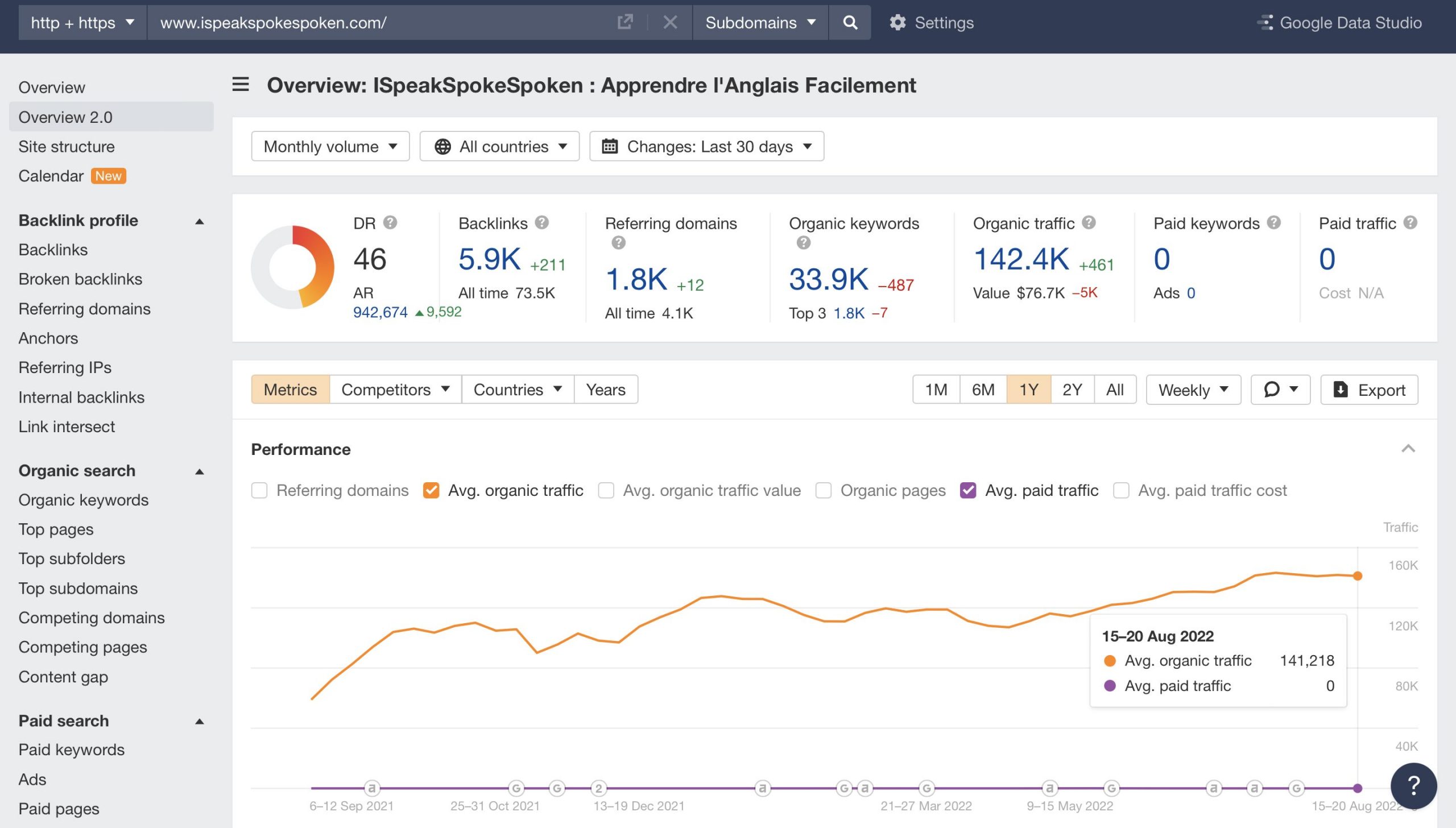 The SEO lead mentioned that they saw specific improvements for mobile visitors compared to desktop visitors. Their data suggest that core web vital improvements have a larger impact on mobile than they do on desktop so far in 2022.
Here in the chart you can see overall keyword ranking positions increased 787 levels.
The average organic Google search ranking position increased by 1.46 to 10.59.
Mobile traffic icreased to 17,400 visitors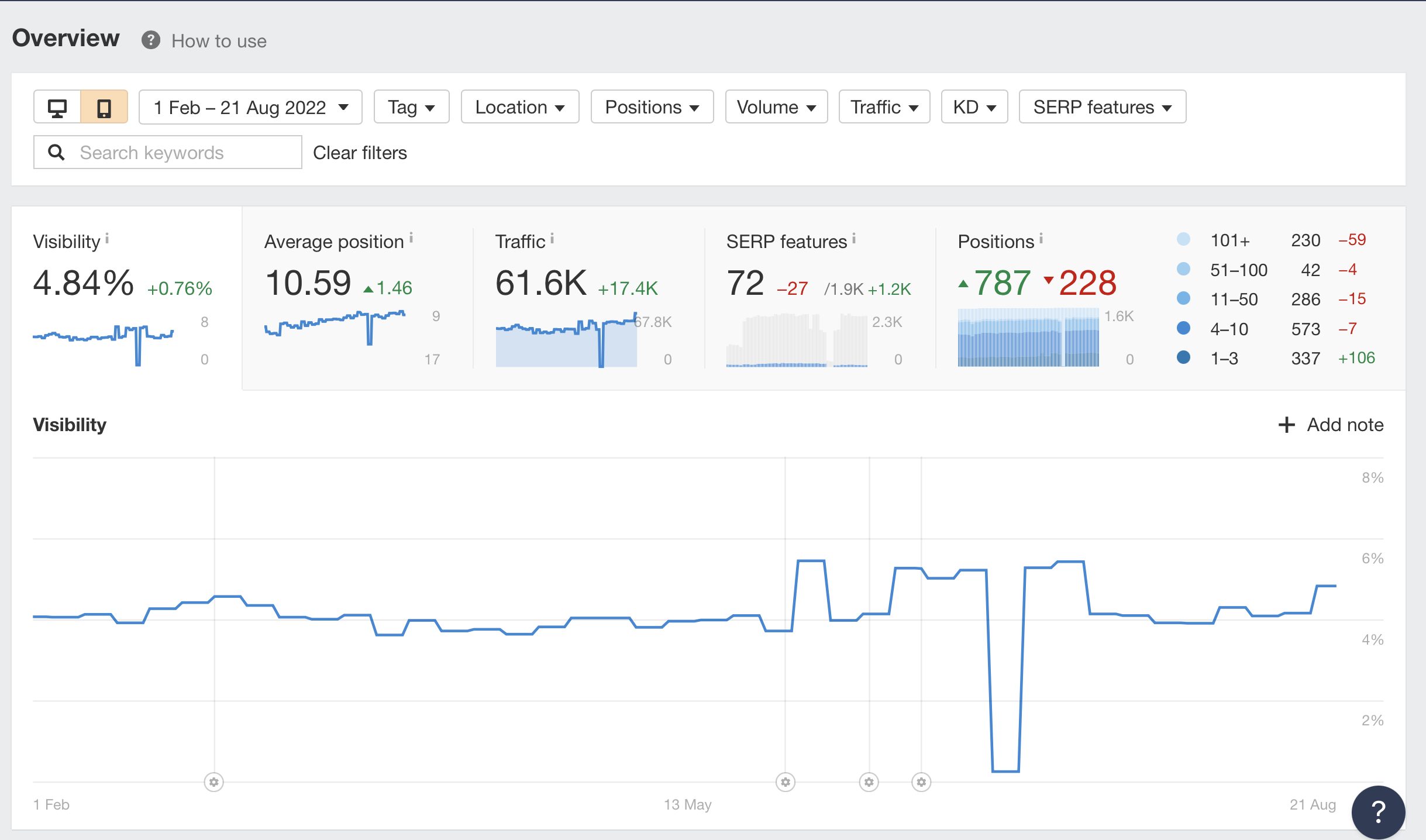 The specific keywords are obfuscated so their SEO strategy can remain private, but look at some of these increases for mobile search rankings after improving the vitals as part of their larger SEO campaign.
Their top keyword jumped from position 6 to position 1 resulting in an 8,500 visitor increase from mobile users.
In the top 21 keywords and pages they track, 11 enjoyed a position increase for mobile users – that's over 50% of their top keyword pages!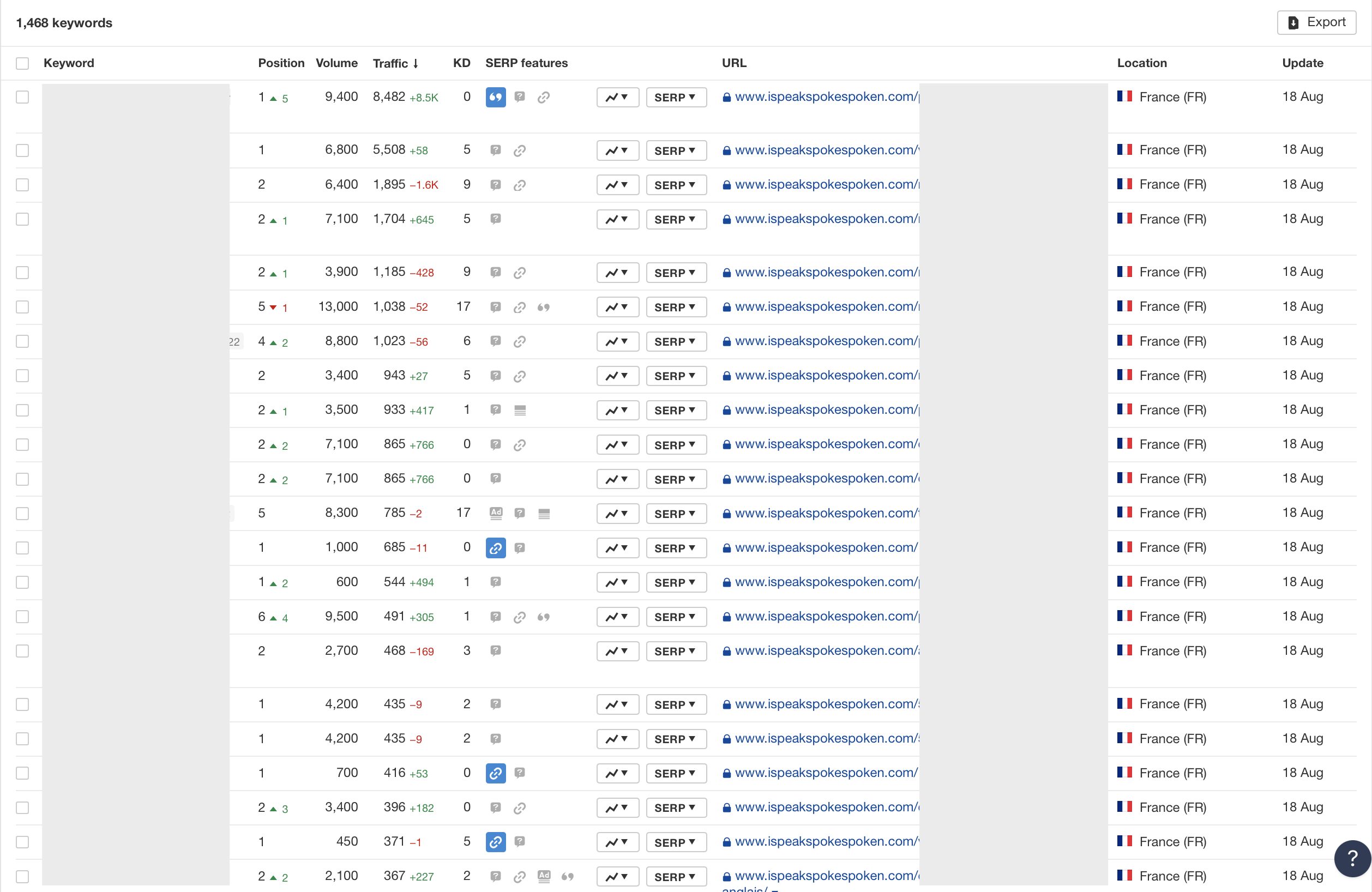 Are you looking to improve your SEO game? Is speed preventing your site from increasing its organic search ranking positions?
Do you want to find out what's holding your Google Core Web Vitals back? Let's find out together. Fill out our intake form here.
#OptimizewithHeart