Google Core Web Vitals are critical for your WordPress site's SEO efforts if you care about organic traffic. Read how this learning languages WordPress website achieved 100% good urls in Google Search Console after a collaborative optimization effort.
Kris relies on organic traffic from Google. It's how most of his visitors find his content and product reviews. To quote Kris, "without my Google traffic I'm screwed."
I know Kris from the real world (fun fact we took the IB diploma together here in Denmark!) so we decided to work together to help preserve his free organic traffic from Google. The alternative – hoping for the best – seemed totally foolish.
Kris's livelihood depends on the success of his website in Google's rankings. That's scary since Google can change things up whenever they want.
Many users like Kris get notifications from Google about their Core Web Vitals failing.
They log in to Google Search Console and see red and orange lines in the mobile and desktop reports.
Panic. Fear of losing traffic means losing visitors and revenue.
Kris was looking to grow his site with a massive content production effort. But what's the point if Google won't reward those creative efforts?
Let's get these Core Web Vitals green so Kris can rest easy in 2021.
Before Core Web Vitals Optimization
Here's what Kris saw in Google Search Console in March 2021. We had already started some optimizations by then as you can see in the desktop section (189 good URLs).
His mobile scores for 189 pages had bounced between "poor" and "need improvement" for months. Google uses mobile-first indexing so most users only care about the mobile scores and performance – Kris was no exception.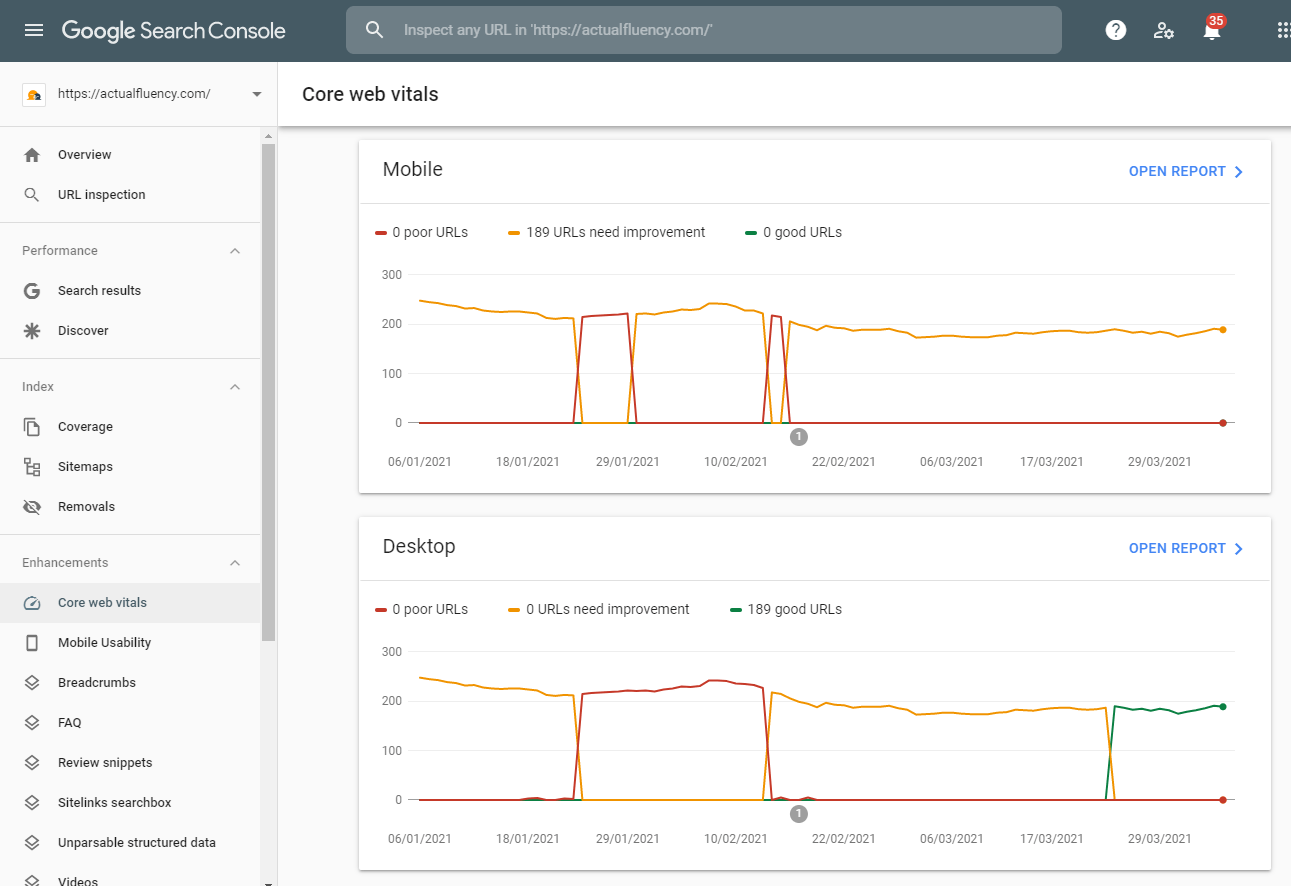 Core Web Vitals Audit Diagnosis
After a multiday audit using our in-house tools and in-depth analysis, we found the major performance bottlenecks holding actualfluency from achieving maximum core web vitals health.
Here are some of the highlights from the audit:
Refactor theme
Optimize media using core optimization principles – not lazy third-party services
Removing bloated code from page builders
Replacing opt-in code with lighter solutions without losing signups or conversions
Adjust plugin settings
Fix CLS (Cumulative Layout Shift) to improve the user experience
Reduce LCP (Largest Contenful Payment) which is a key conversion rate metric
The optimization process took several weeks and the results were astounding.
After Core Web Vitals Optimization
Google Search Console updates pretty quickly if your site gets a good amount of traffic.
Kris checked and was delighted to seeall of his pages were "good URLS" now according to Google!
Not only are Kris's 189 previously poor pages now "good" but so were the 28 new posts he had made 🙂 .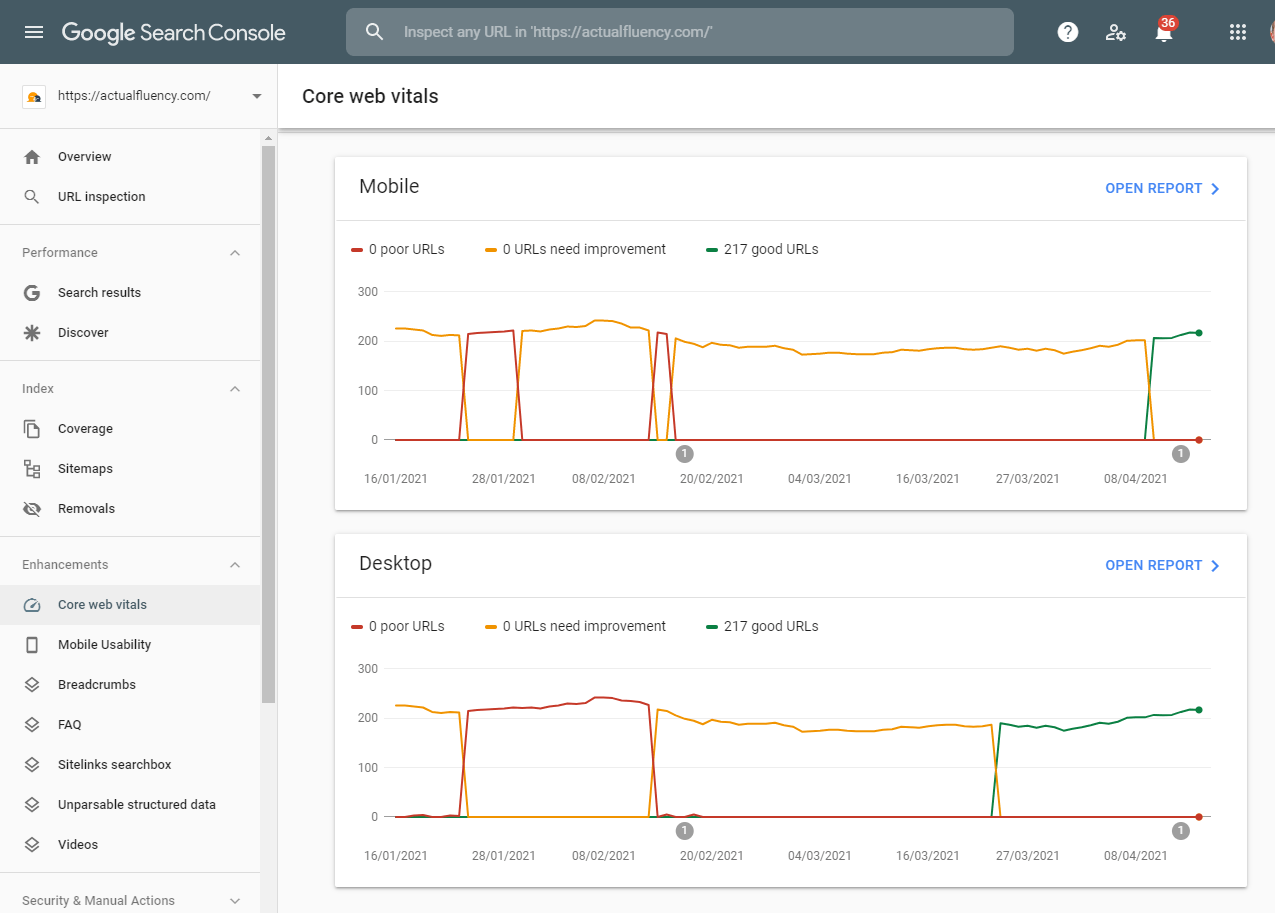 The 17 posts Kris made in the weeks following also had good green health – we didn't have to optimize those pages because our optimizations were so thorough and followed core performance principles.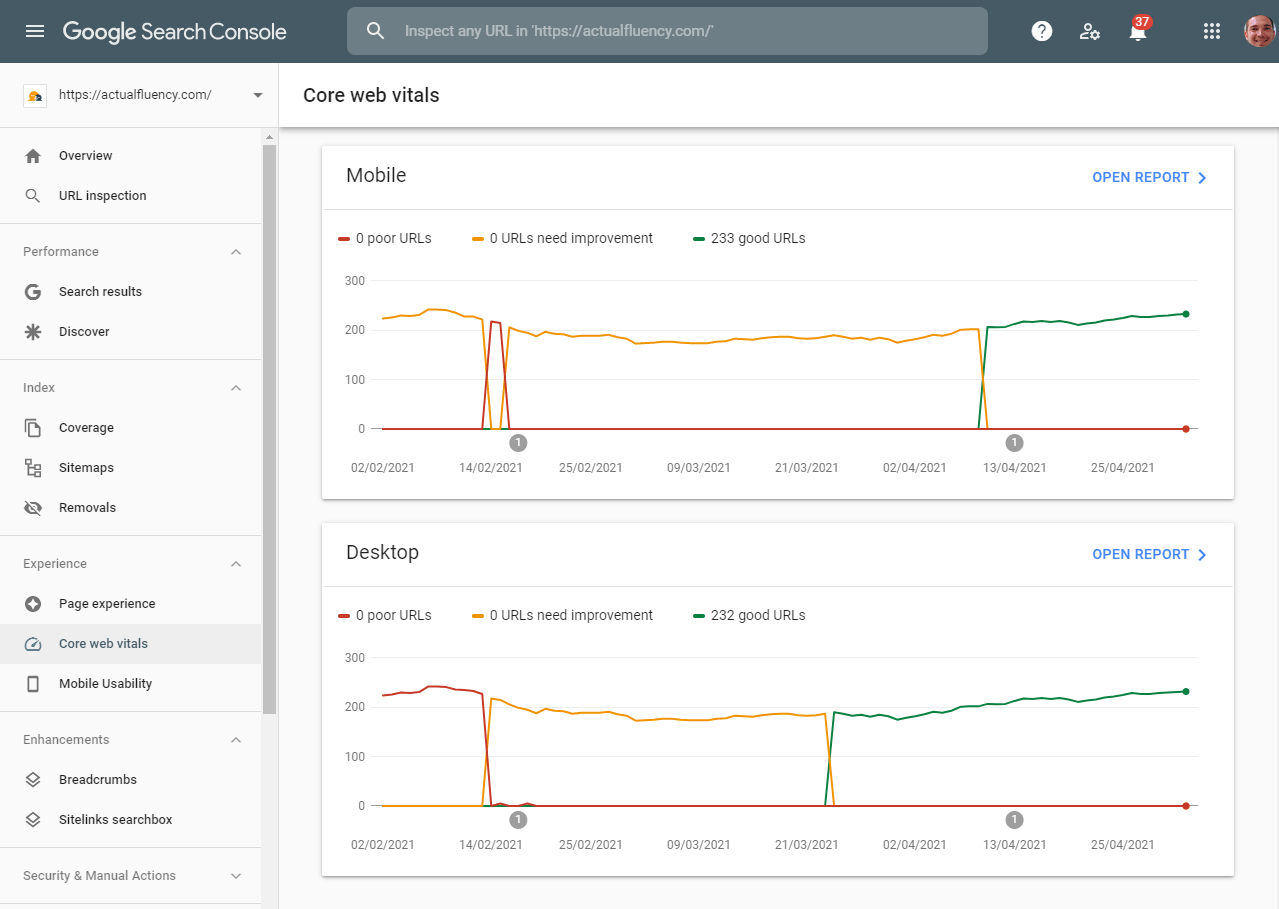 The Core Web Vitals Report showed a beautiful rainbow of transformation.
Here are the results from the desktop report.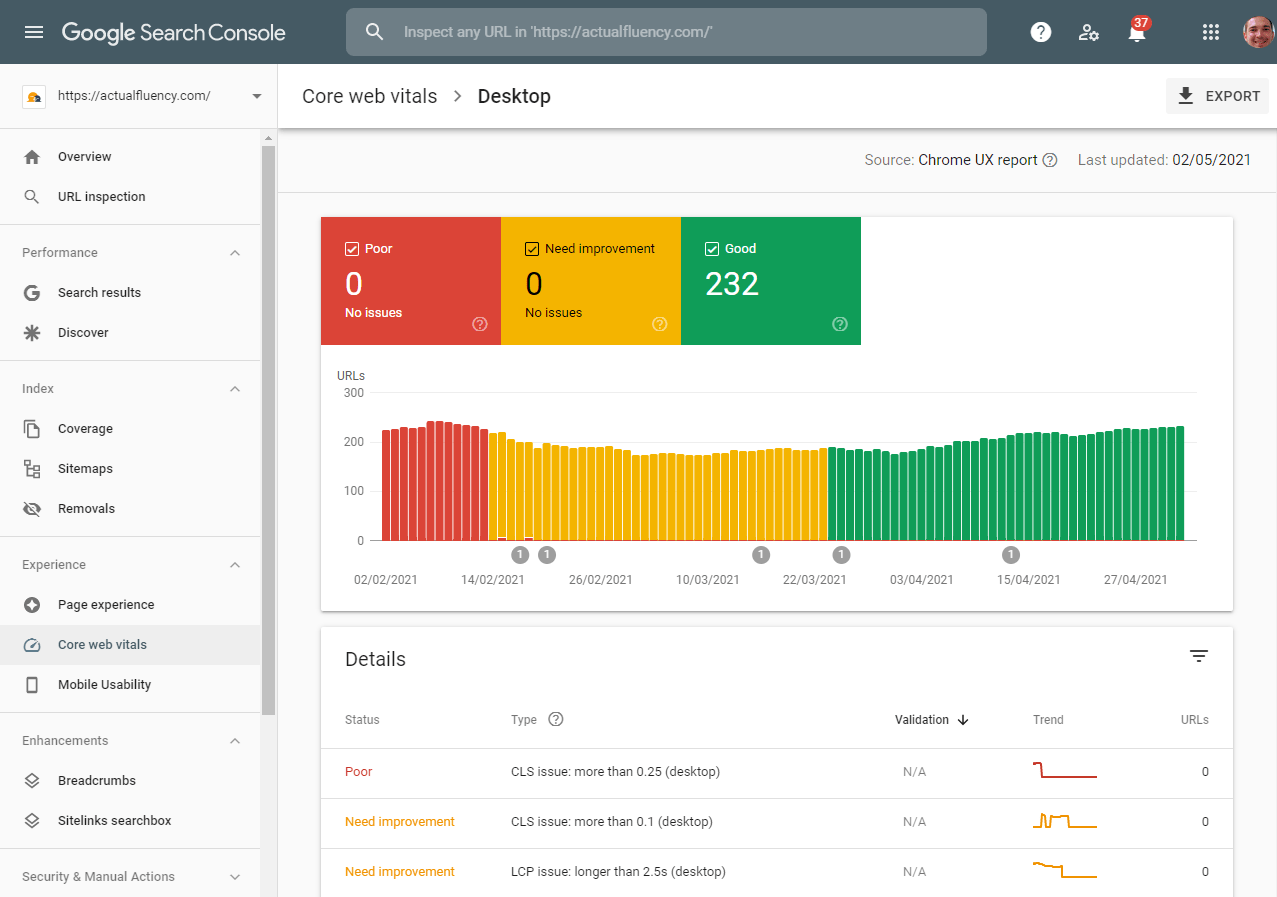 Here are the results from the mobile report.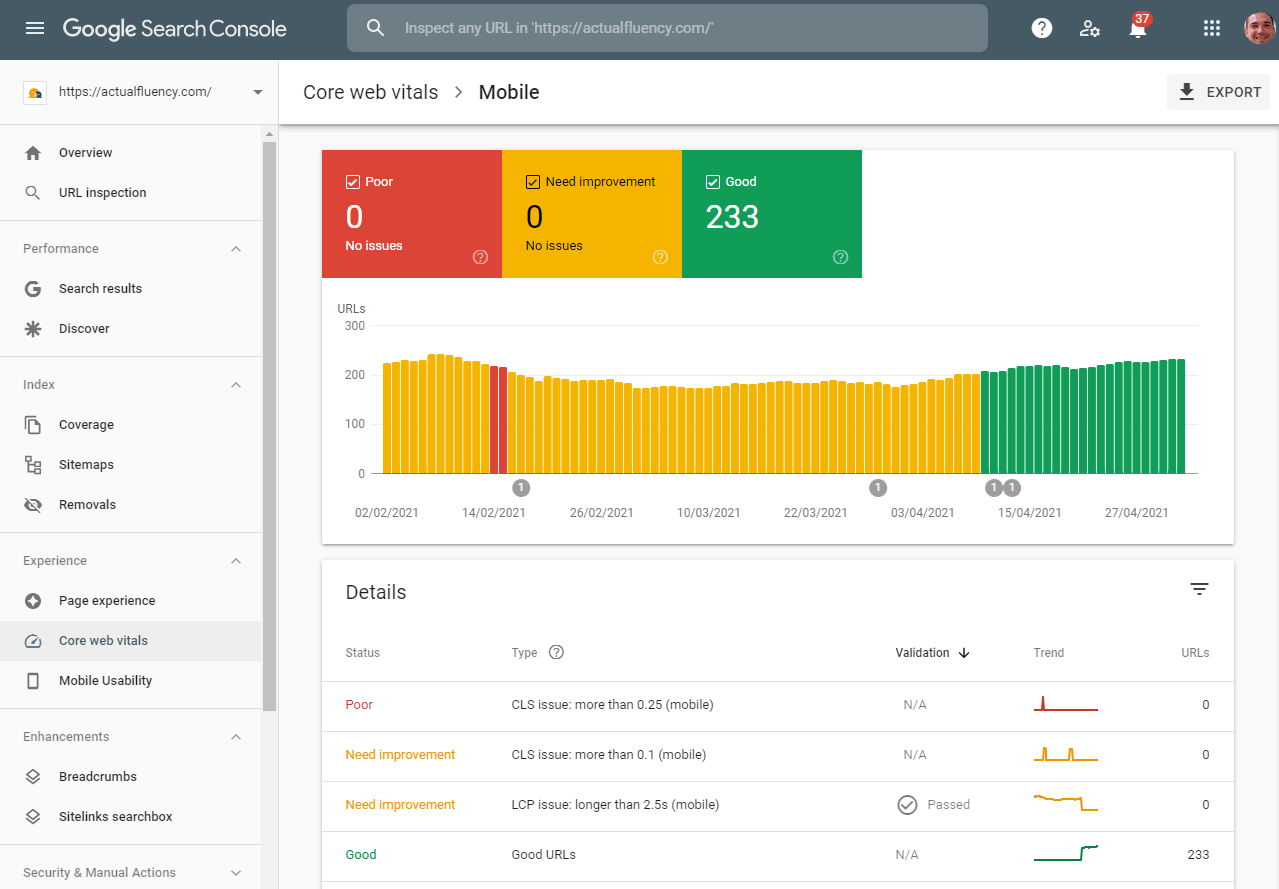 Under Google Search Console's Page Experience section we saw 100% good URLs – every website owner's dream!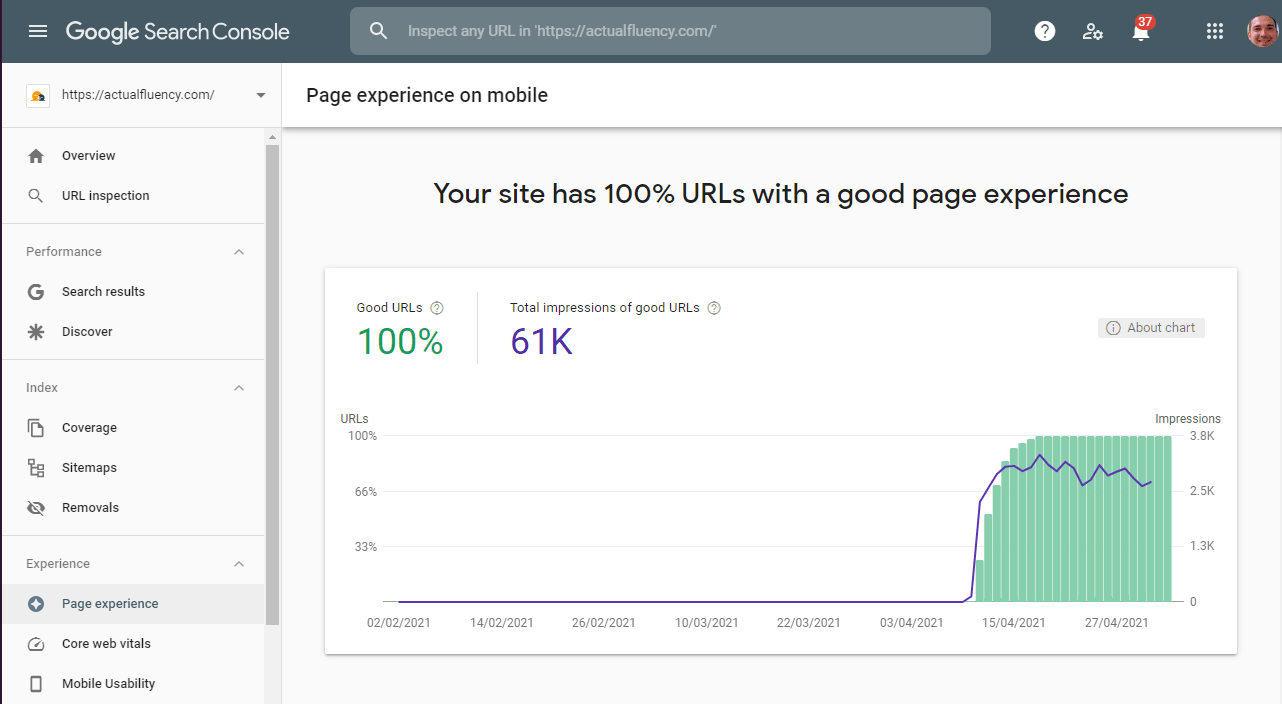 And all of the Page Experience signals Google demands from modern websites in 2021 were ticked.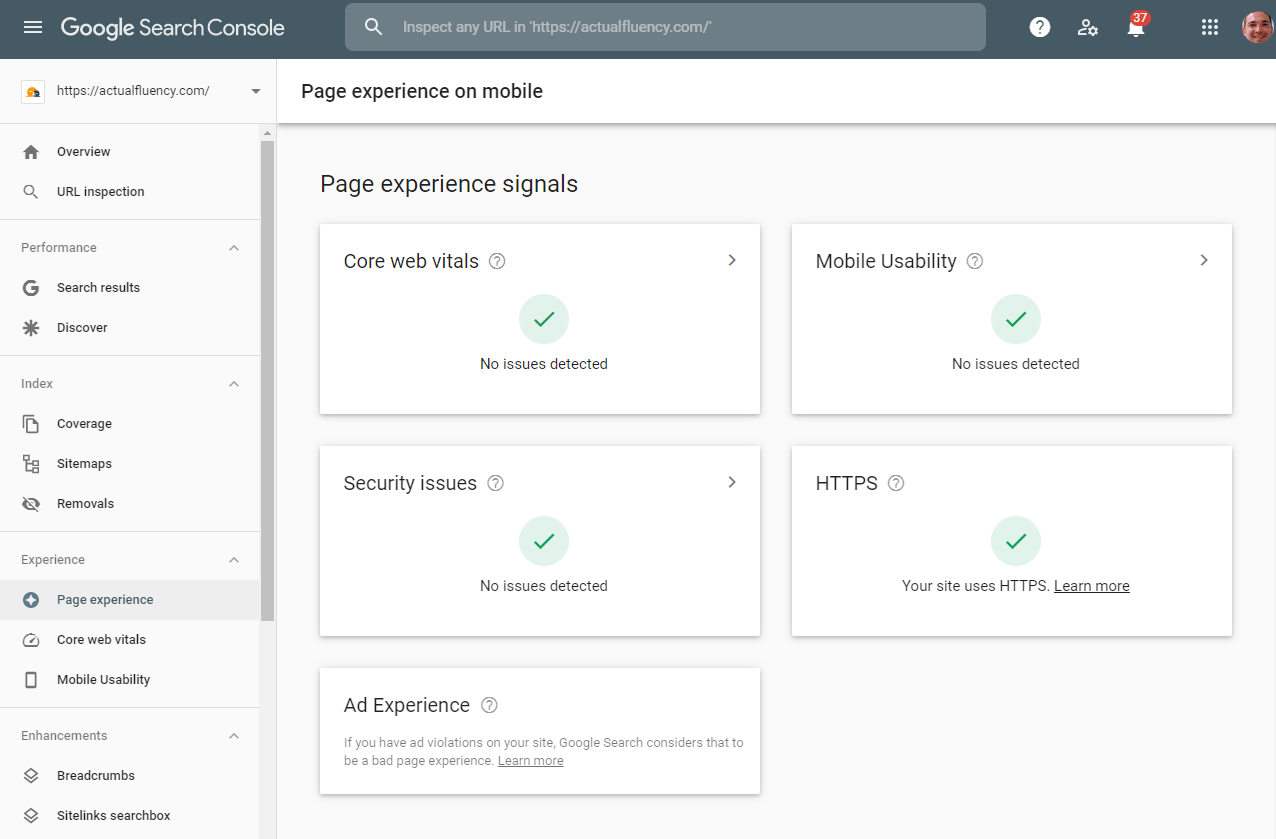 Google PageSpeed Scores After Optimization
Google PageSpeed scores improved significantly too.
The homepage now scores up to 98!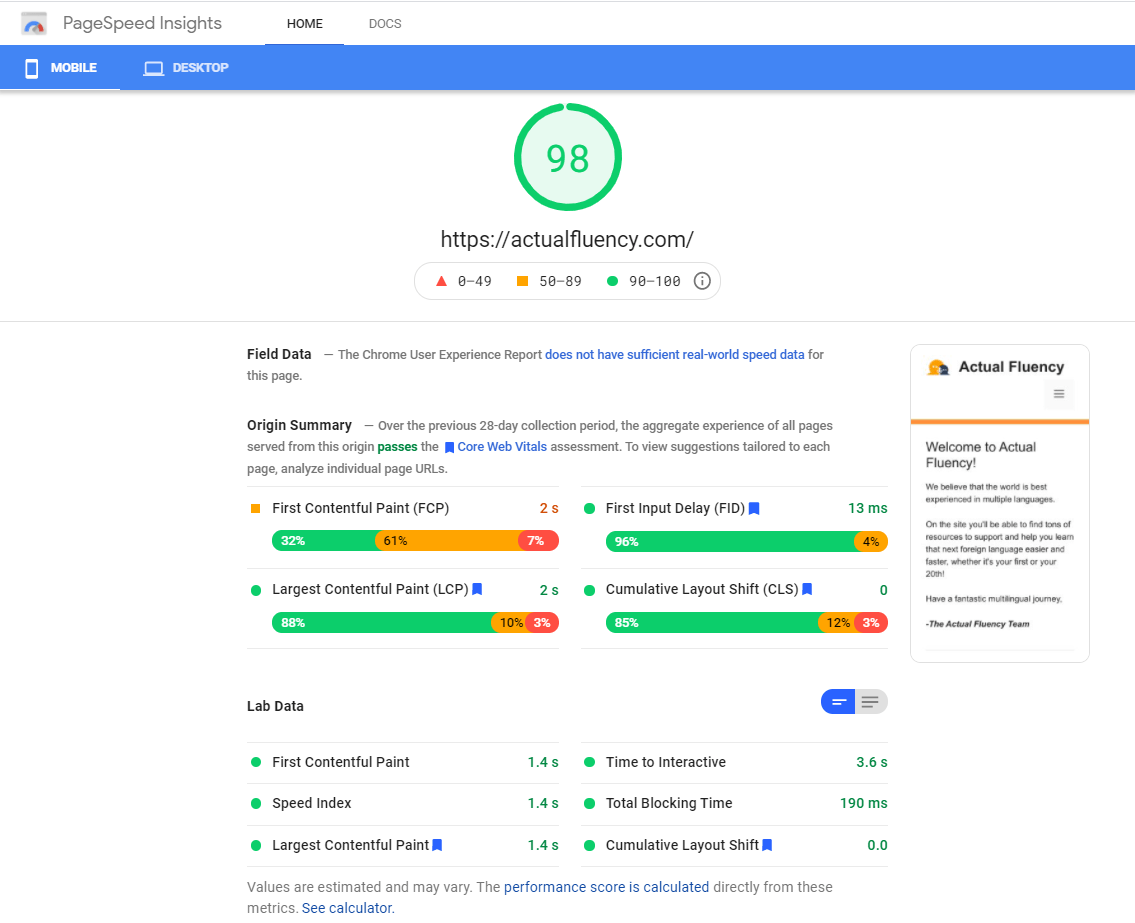 Blog posts score a 97. These are critical for lead generation.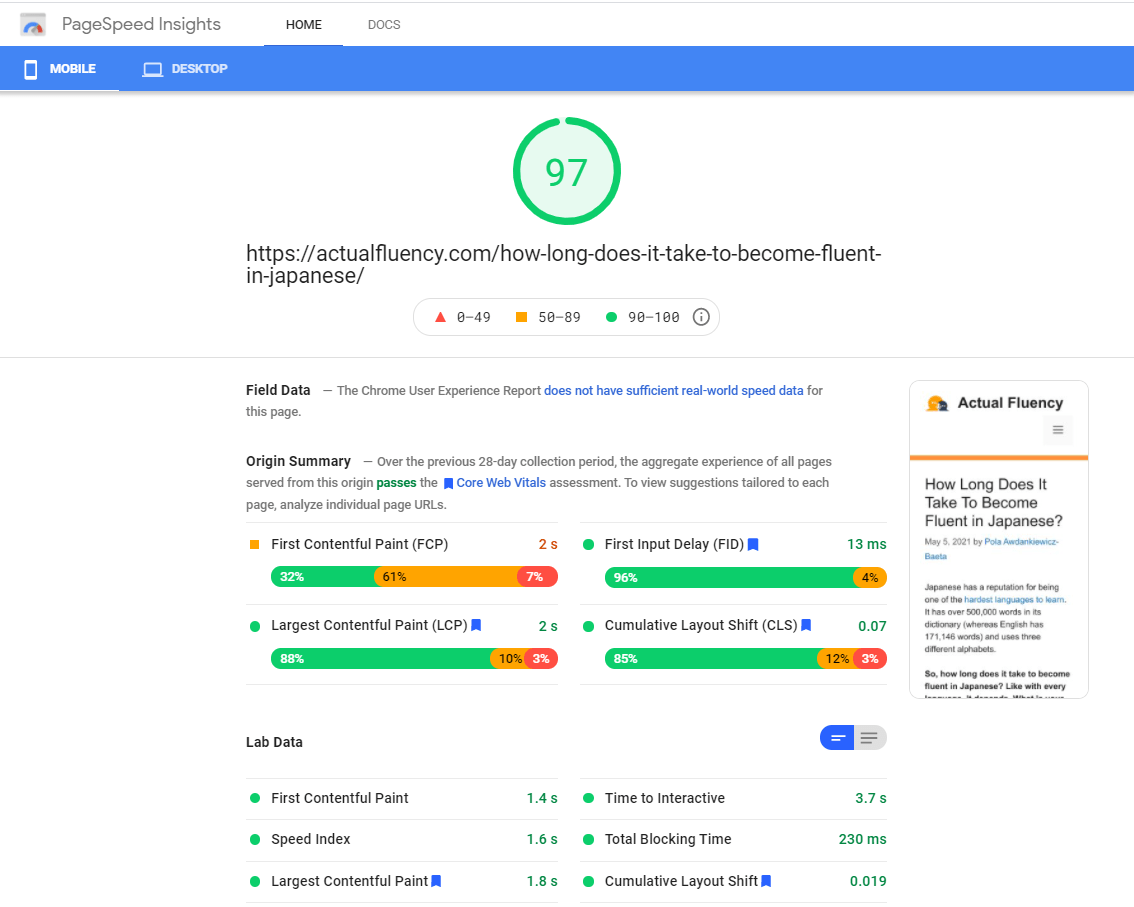 Review pages are scoring a 94 – these are super important for affiliate revenue.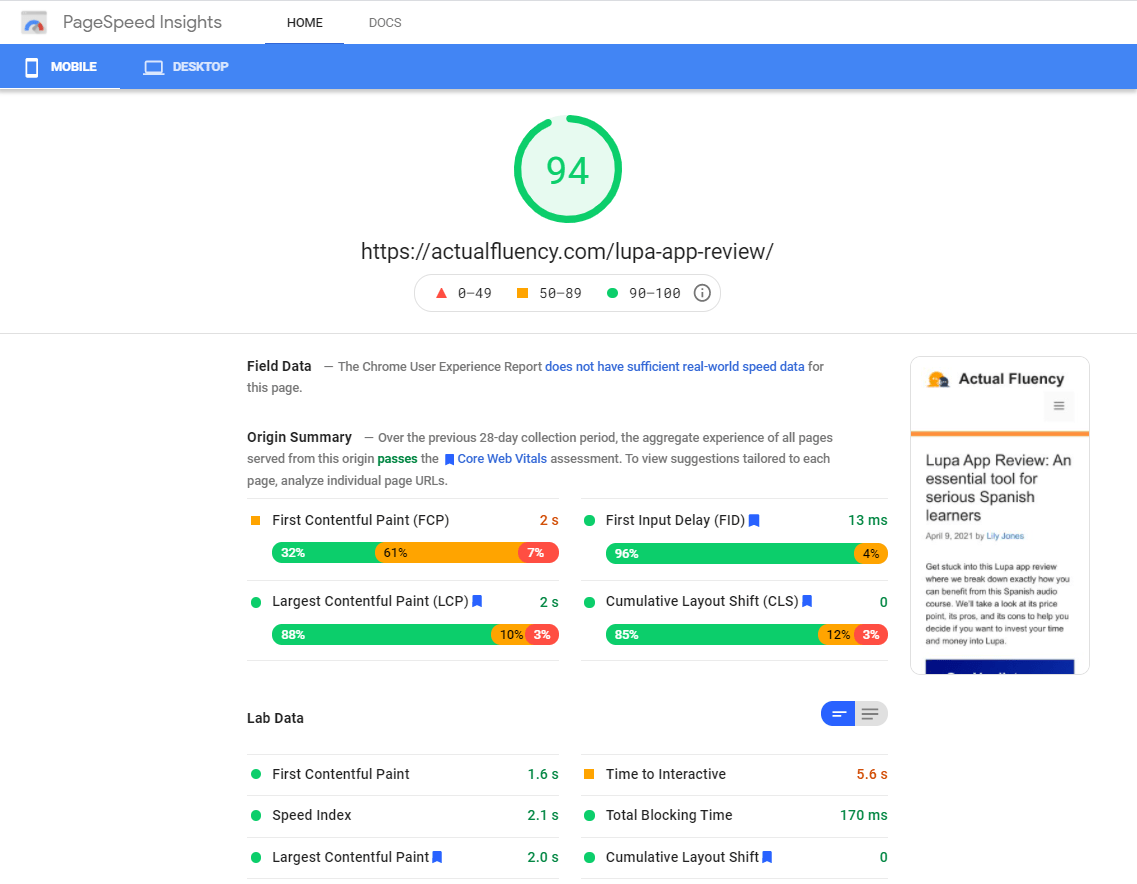 Search Traffic Increase after Optimization
Following the Google Core Web vitals optimization process we saw clicks increase more than 2x – less than 200 clicks to 400 clicks per day in Google Search Console!

Do you Want Good Google Core Web Vitals for your Affiliate or Review Site?
Have you exhausted all of your possibilities for 'low hanging fruit' to improve your Google PageSpeed scores on your site?
Are you ready to stop reading blog posts about increasing your site speed and TAKE ACTION?
Can you accept the shortcuts and no low-hanging fruit aren't going to help you?
Are you concerned how Google's new core web vitals PageSpeed algorithm will affect your store's SEO rankings?
If you follow your SEO rankings, you probably know that Google's algorithm updates can devastate your traffic numbers. We hope this doesn't happen to you in 2021. To be on the safe side please get assistance from qualified professionals – even if it is not us!
Reach out for a Google PageSpeed audit to see how we can get your store into Google's green zone!
#OptimizewithHeart