This Google PageSpeed performance optimization case study is for a lifestyle news site that gets over 2 million visitors every month.
There is a reason major news sites opted to run WordPress like Forbes, The New York Times , Reuters and CNN. WordPress is so popular for news sites because it can scale very well for millions of visitors and handle a huge amount of posts and traffic if cared for properly by the right development team.
In 2021, Google will officially start factoring in the PageSpeed core web vital scores into SEO rankings for your news site. If your news site mainly thrives from organic traffic via Google like most do, it is worth working on your core web vitals so you can keep your traffic!
Staying competitive with performance in Google's eyes is critical to maintaining your traffic. As a bonus when your site is faster, visitors tend to stay longer on your site and view more ads which increases revenue – extra happiness all around 🙂
Google's Lighthouse PageSpeed Insights test is challenging to please even for simple WordPress sites. When you add monetization via ad networks like Google Adsense, Adthrive or Mediavine then we have to get even more creative with optimizations.
Google PageSpeed Case Study for a Lifestyle News Site
Here at WP Bullet we take on any performance challenges our clients are passionate about overcoming with us – that includes ads (which we have optimized before).
This particular client was looking to beat his competitors. Most of his competitors have similar sites to his with lots of images and ads so he was OK with orange moderate Google PageSpeed scores.
In our optimization process, we follow the performance principles approved by Google on web.dev always using the latest version of PageSpeed Insights as our benchmark.
We were confident green scores were possible for his site so let's see what we managed to accomplish!
Were green 90+  PageSpeed scores out of reach because of ads?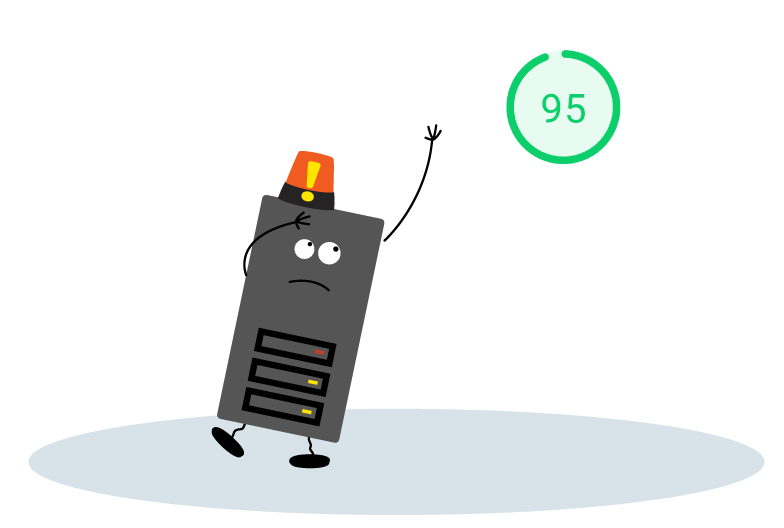 We see clients give up on performance improvements if they have ads. They are often told there is nothing you can do to get good GTmetrix or Google PageSpeed scores if you run ads but this is not true. While ads do impact your scores that does not mean you cannot see some huge performance gains after doing an in-depth optimization for your site.
Many users try optimization services like this one and are happy with the results but some users want to be in the upper echelon of website speed in their niche.
With our considerable experience in improving PageSpeed scores, news and magazine sites should be prepared for the following changes to compete for SEO rankings:
Hosting changes and/or upgrades
Site design revamps
Infrastructure adjustments
Theme refactoring or replacements
Plugin audits and custom development to reduce bloat from commercial plugins
Database tuning—in the right places—can reduce TTFB which research shows is critical for Google rankings
Advanced frontend optimizations not currently available in any mainstream plugins
Site-dependent changes that no plugin can do out-of-the-box because they are unique to your site
We understand the optimization demands of modern websites running WordPress. We have been developing WordPress plugins to address our clients' PageSpeed score concerns to get the results you see in our case studies.
Please note these plugins are currently only available to our private clients we work with on our favorite expert WordPress platform.
In this case study we show you how we took a very heavy ad-driven news site from scores as low as 8 on mobile to over 90 and even got to 98 in desktop!
This entire optimization process took roughly 3 weeks full-time for our team to complete.
Site Overview
This site gets nearly 3 million page views per month according to Google Analytics.

Google Search Console shows a similar story.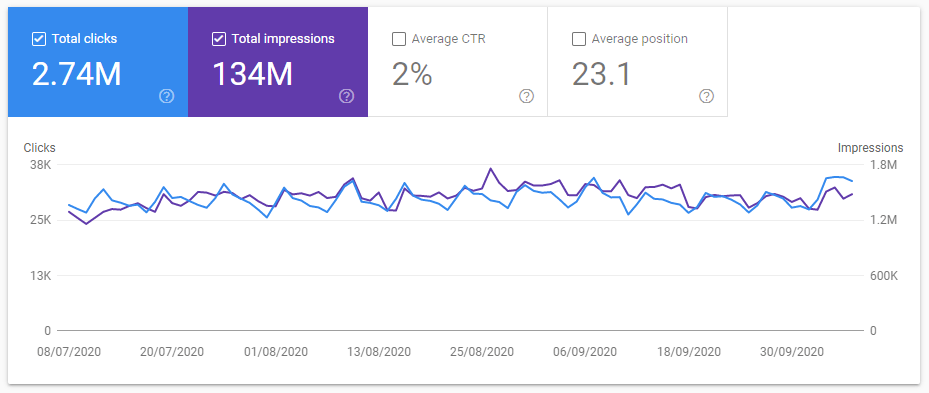 The core web vitals were not in good shape for desktop. Over 4700 posts all poor 🙁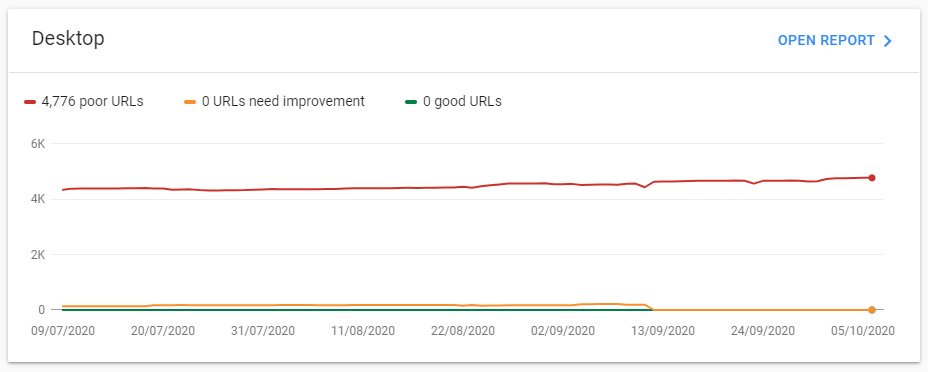 The core web vitals for mobile were similarly poor for al 4,776 posts.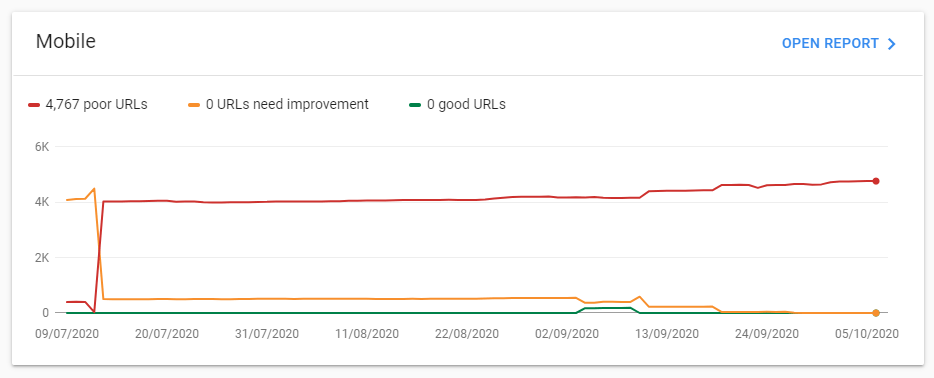 This site began with PageSpeed scores entirely in the poor red zone due to the following factors:
There are 52 plugins active required on this Lifestyle News site

Including popular monetization plugins like Ad-Inserter and Thirtsty Affiliates

Over 8 ad providers with tons of JavaScript and redirect chains
Results Before Optimizations
In this section you can find the Google PageSpeed scores before we began our in-depth optimization process.
We focused on the homepage and post page since there were the primary page types that rank well in Google's search rankings!
The client had done plenty of research and tested a plethora of optimizations to improve his Google PageSpeed scores only to be disappointed with his efforts.
He wished he had spent his time otherwise, here is an overview of what he tried:
WP Rocket was installed and configured according to their documentation
Tested multiple 'light' themes'
Running on hosting costing $4500 per month with plenty of resources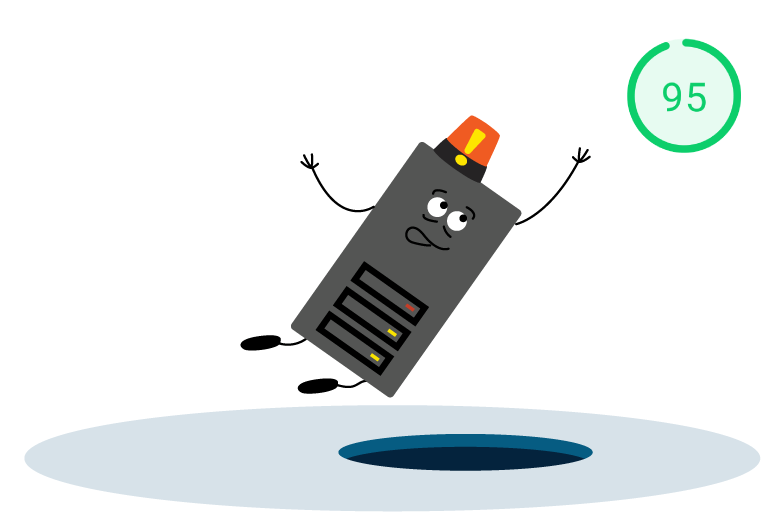 These optimizations kept the site in the red zone. Imagine doing all of this work only to see a score of 8 on Google PageSpeed Insights – super unfortunate!
Our optimizations are so in-depth, we always get score improvements since we tailor them specifically for your site. No magical service or plugin can get the same results.
As always we begin with an audit to make sure there are no major blockers that will prevent your scores from improving. In this case the client had to change his theme before we could proceed because the 'light theme' he was using was actually super bloated!
Homepage Before Optimizations
The homepage scored a very underwhelming 16 despite using a lean theme and very powerful managed WordPress hosting.
The ads were certainly not helping!
First Contentful Paint is 4.6 seconds.
Speed Index is 8.6 seconds.
Time to interactive is 23.5 seconds.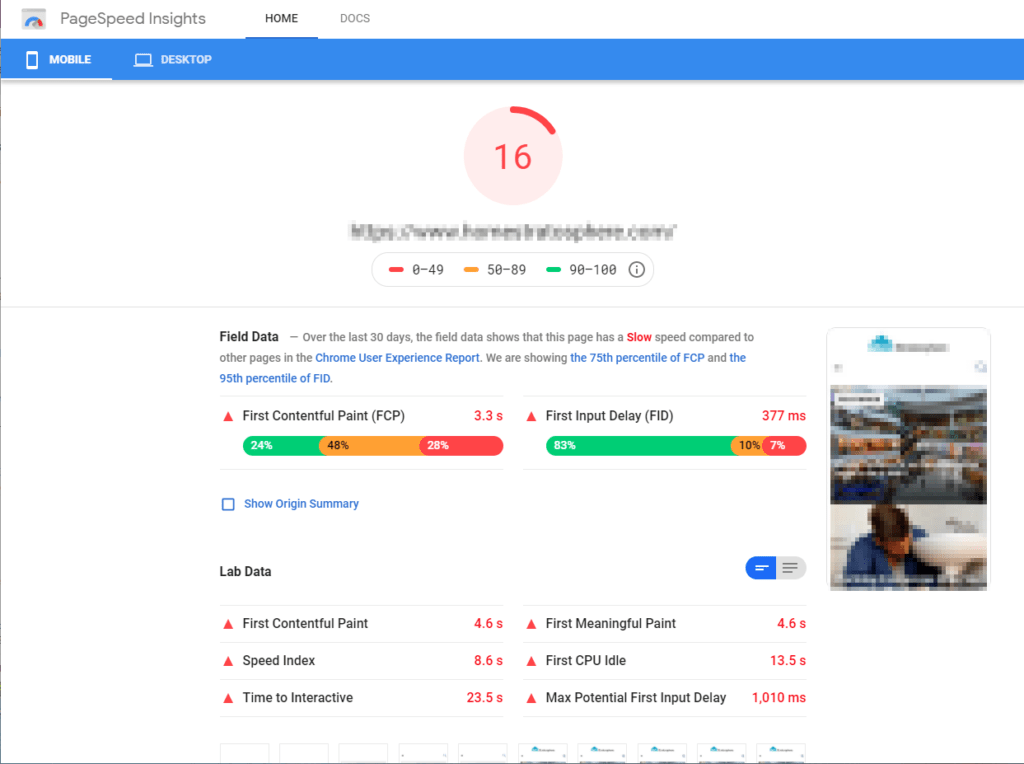 We do multiple test runs, sometimes we got lucky and got a 17.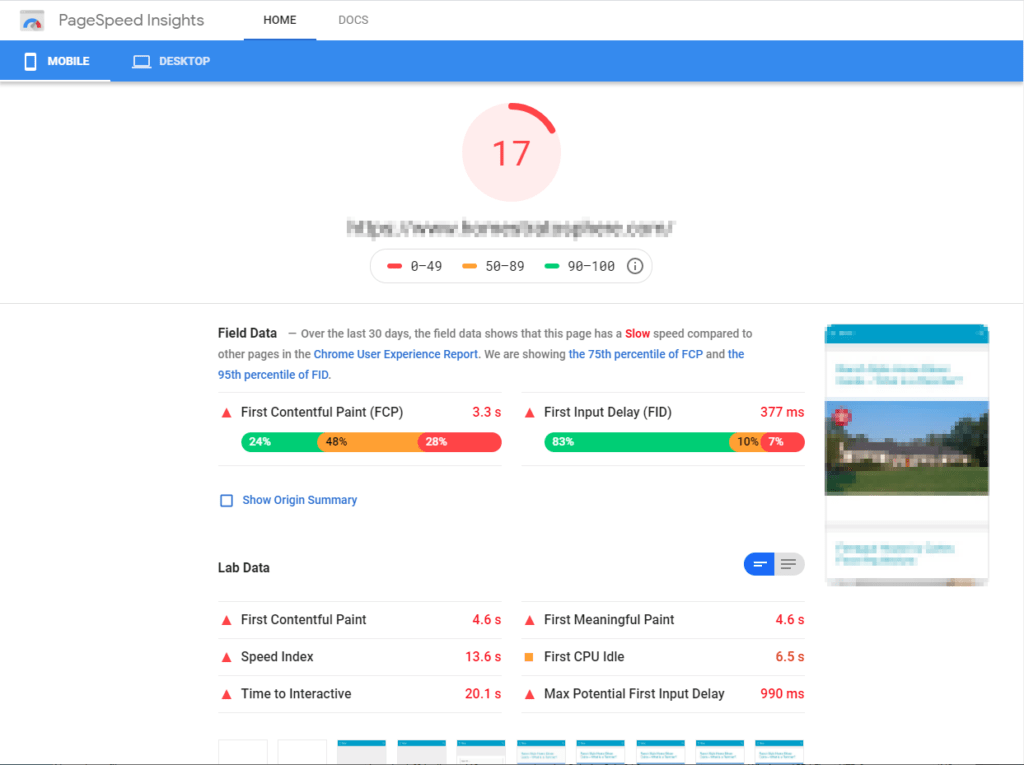 Post Before Optimizations
One of his most popular posts scored an 8 which is unlikely to dazzle Google.
You can see all of the key metrics are in desperate need of major help.
First Contentful Paint is 5.5 seconds.
Speed Index is 35.5 seconds.
Largest Contentful paint is 23.7 seconds.
Time to interactive is 43.6 seconds.
Total Blocking time is 7.1 seconds.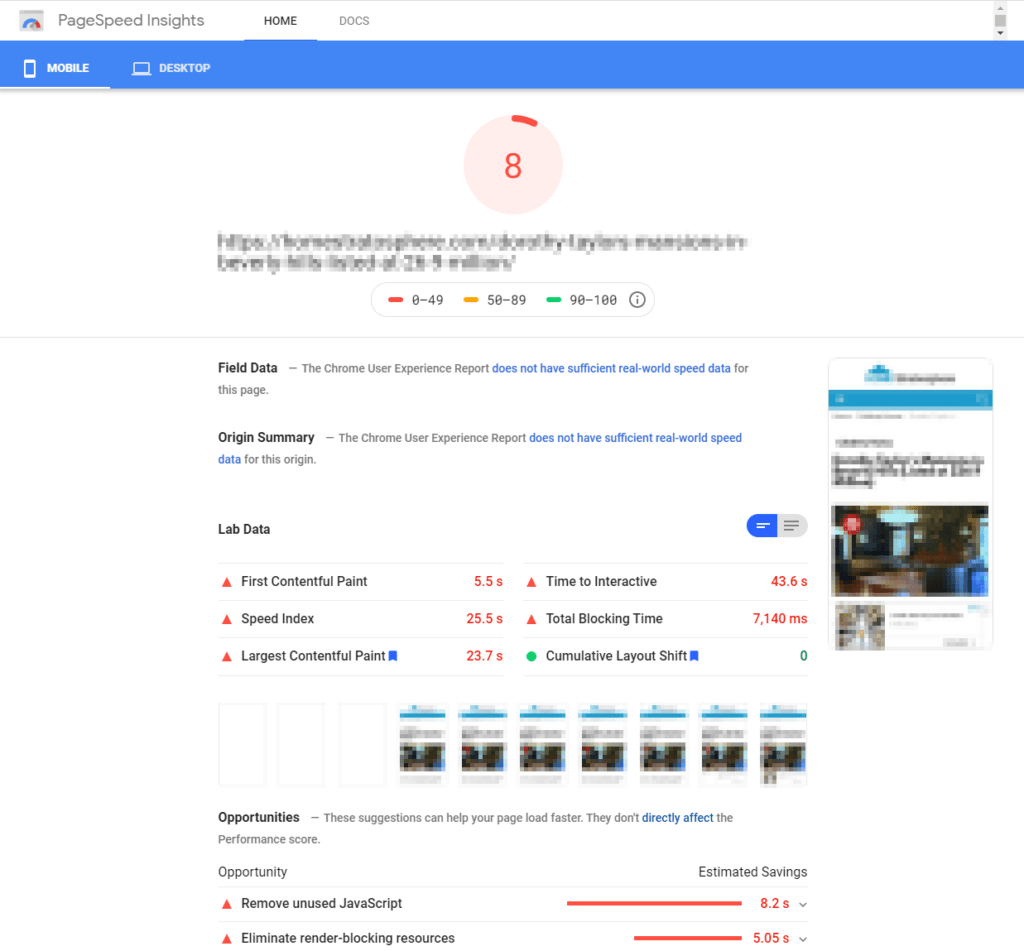 Optimizations Completed
We will spare you the geeky technical details.
All 52 plugins still run on the site!
All 8 ad networks still run on the site
Tailored configuration of our in-house plugins

We even added new features to these to accommodate some Ad Networks
Currently only available for VIP clients only through here

Customized theme refactoring of a popular light theme
Theme asset optimizations to remove bloat
Font optimizations
No caching plugins used 😉
Image optimization
After Optimizations for Google PageSpeed
Homepage After Optimizations
After these thorough optimizations, the homepage scored an 85 which is almost a 70 point improvement!
Homepage with Optimized Ads
With the ads optimized for this lifestyle news site we got the homepage to 90 and beyond!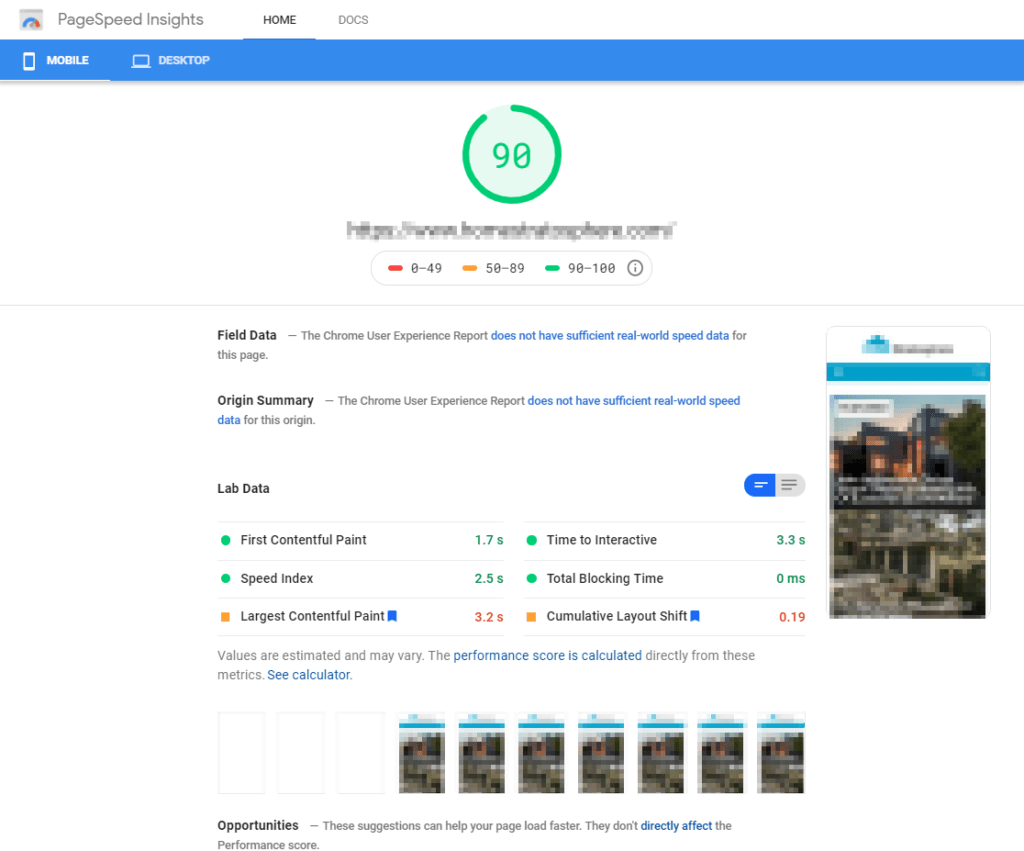 And when all caches are warmed up we get a mobile score of 92.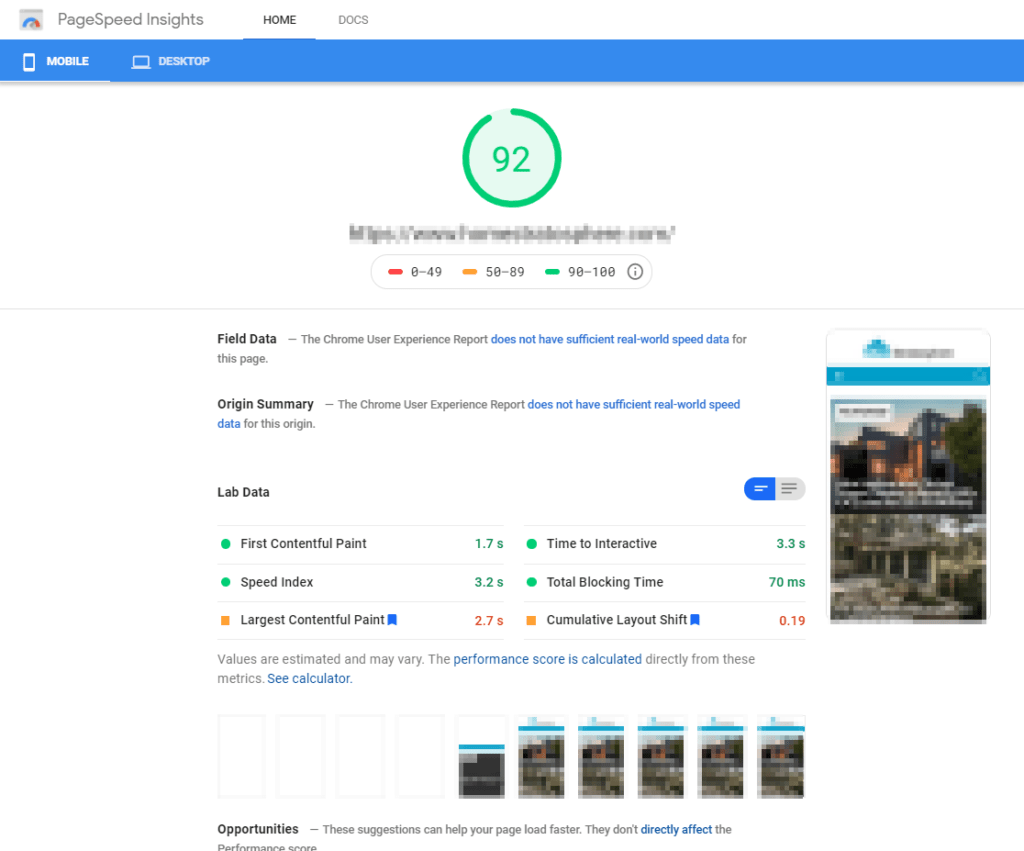 All of the critical visual render time metrics improved like
First Contentful Paint down to 1.7 seconds
Speed Index down to 3.2 seconds
Time to Interactive now 3.3 seconds
Total Blocking Time 70 milliseconds
Post Page After Optimizations
The Google score increased from an unimpressive 8 to a very respectable 77 – a 69 point improvement :O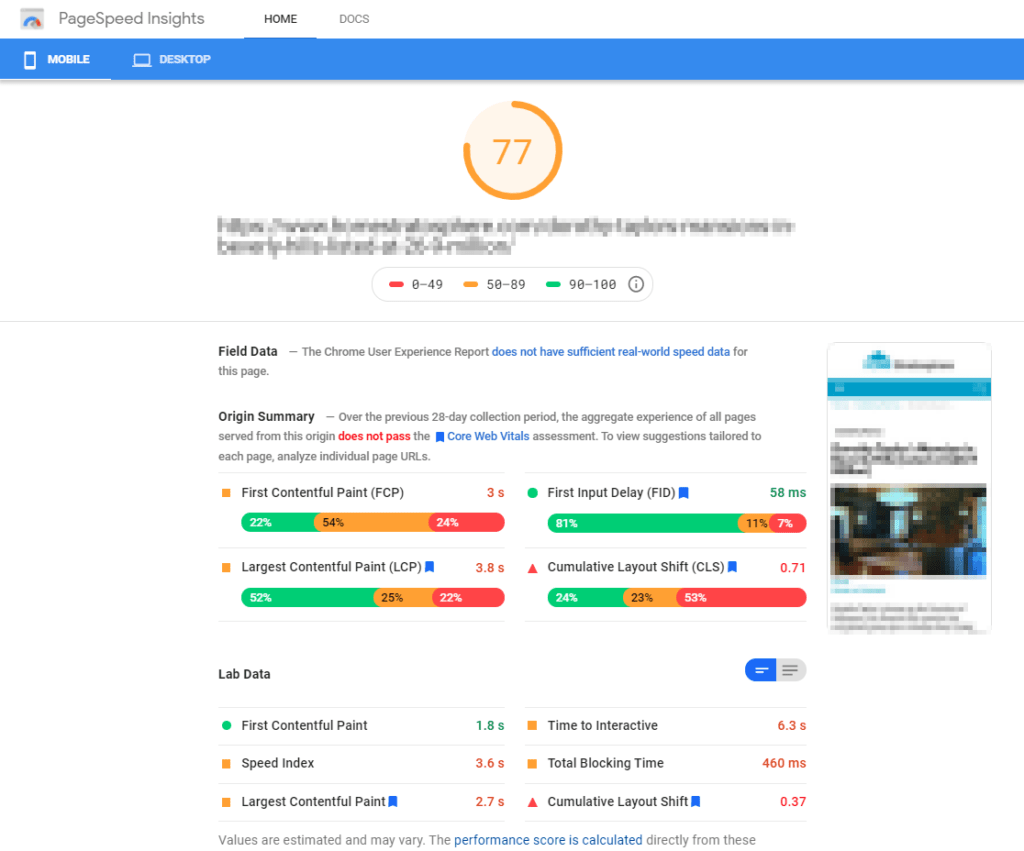 Note that the ads have not been optimized yet!
Post Page with Ads Optimized
With the ads optimized the score jumped to a 94 on mobile!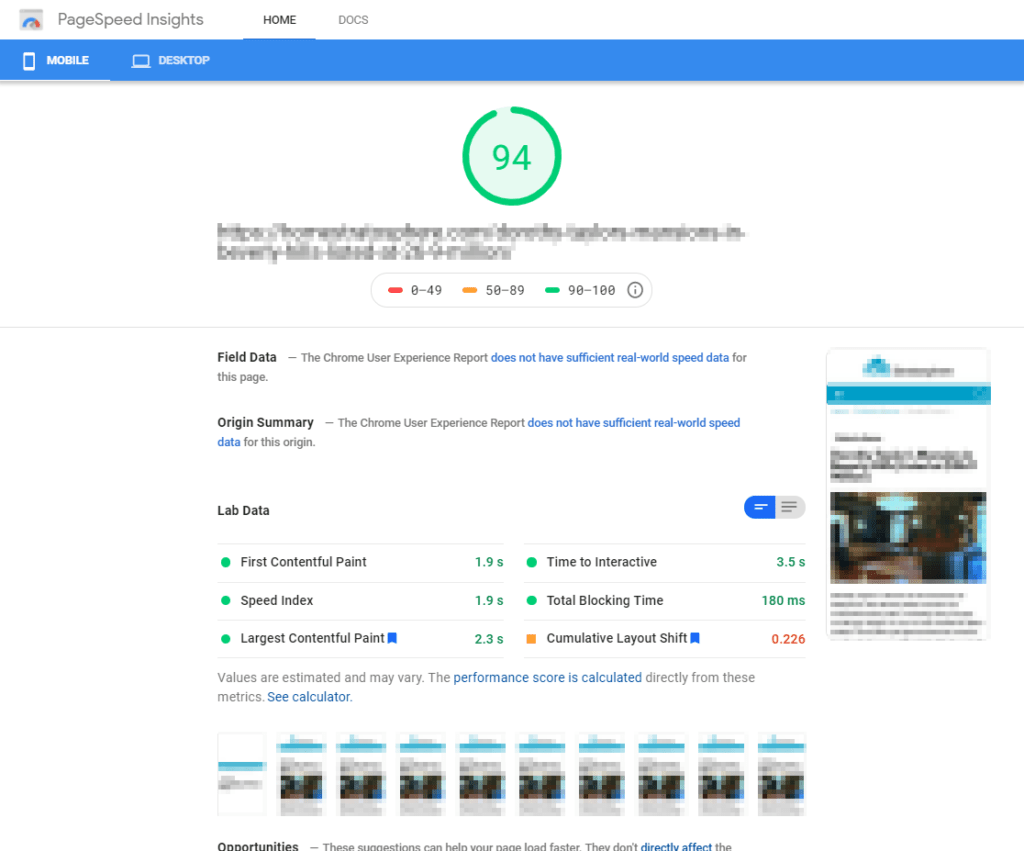 Sometimes we got a 93 mobile score on PageSpeed 🙂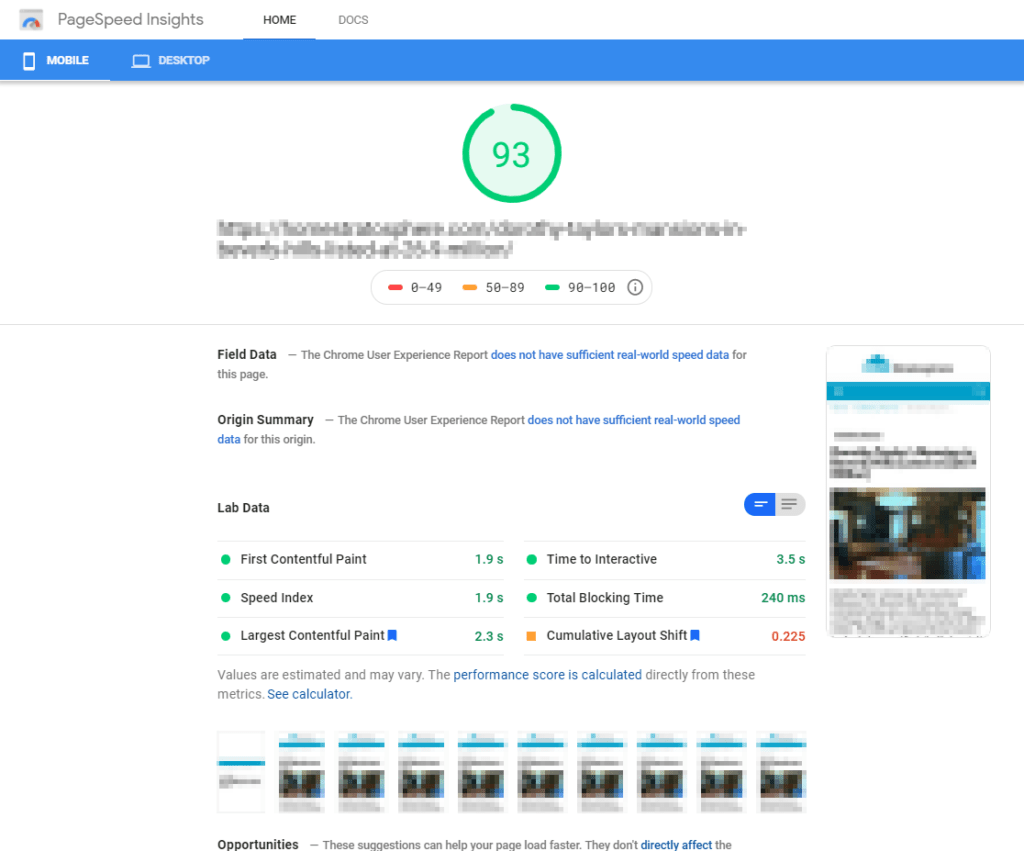 One of the ad networks was still working on addressing the cumulative layout shift per our recommendations.
Once they addressed that we got a score of 98 on mobile!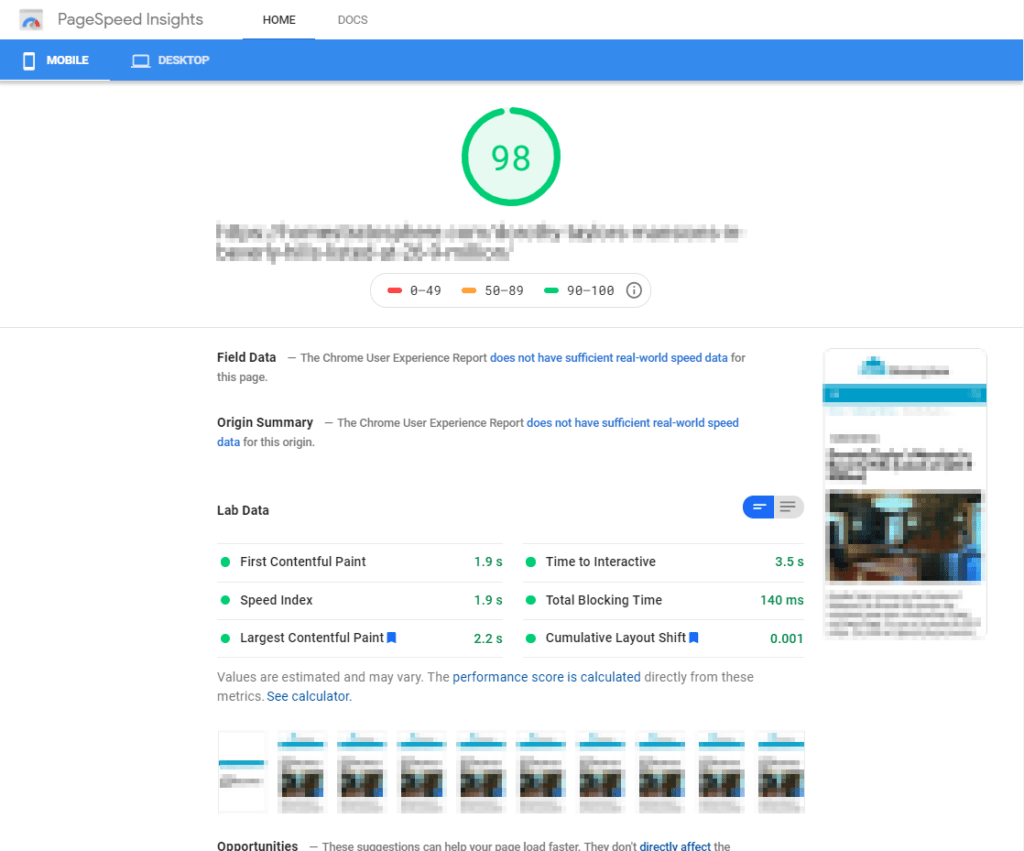 On desktop we got a 99 – that cumulative layout shift is still being addressed for desktop users.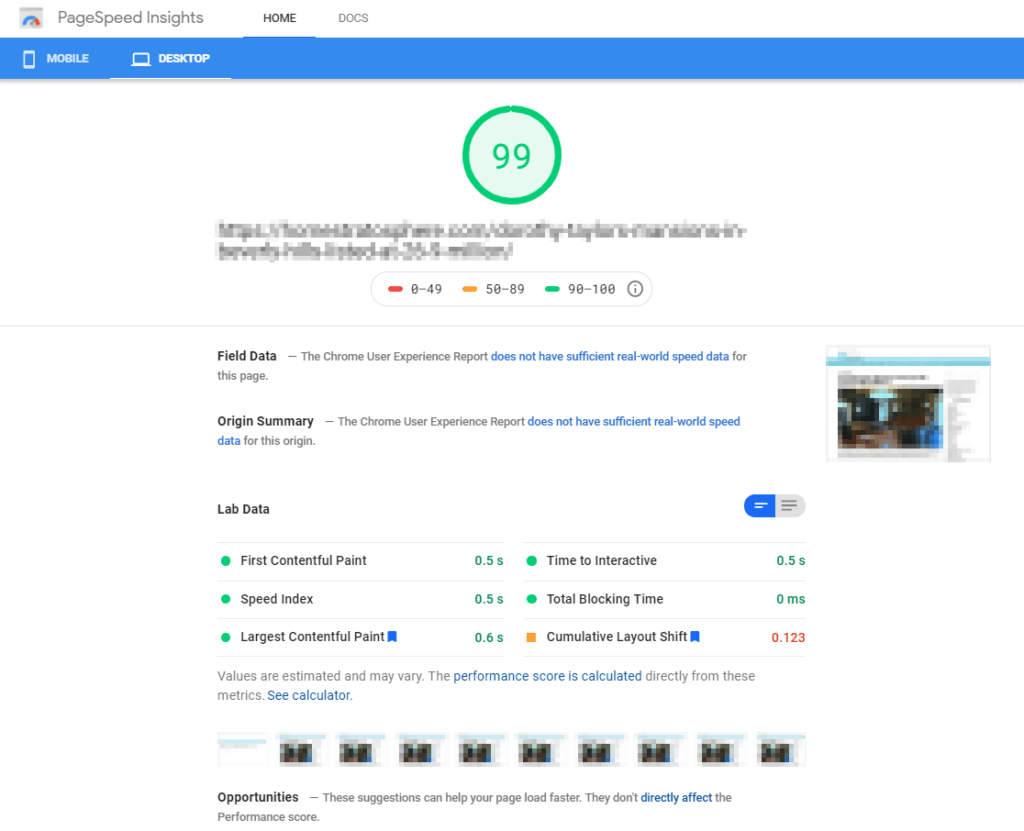 Ads are critical to monetizing countless sites across the internet but they don't have to ruin your site performance.
Here we show how a purist, ground-up approach to performance can get even the slowest sites running fast and scoring well on Google PageSpeed.
Do you Want Green Google PageSpeed Scores for your News Site?
Have you exhausted all of your possibilities for 'low hanging fruit' to improve your Google PageSpeed scores on your news site?
Are you ready to stop reading blog posts about increasing your site speed?
Can you accept the shortcuts and no low-hanging fruit aren't going to help you?
Are you concerned how Google's new core web vitals PageSpeed algorithm will affect your store's SEO rankings?
If you follow your SEO rankings, you probably know that Google's algorithm updates can devastate your traffic numbers. We hope this doesn't happen to you in 2021. To be on the safe side please  get assistance from qualified professionals – even if it is not us!
Reach out for a Google PageSpeed audit to see how we can get your store into Google's green zone!
#OptimizewithHeart♥