Most WordPress website owners have a love/hate relationship with Google. They can decide your site is worthy of traffic and just as easily take it away. It looks like in 2021 onwards that Google will do the same with the site speed judgment of your site.
Google's Lighthouse PageSpeed Insights test is by far the most challenging to score well on. They have really raised the bar so high for performance and user experience that most sites can only dream of reaching the coveted 90+ green zone.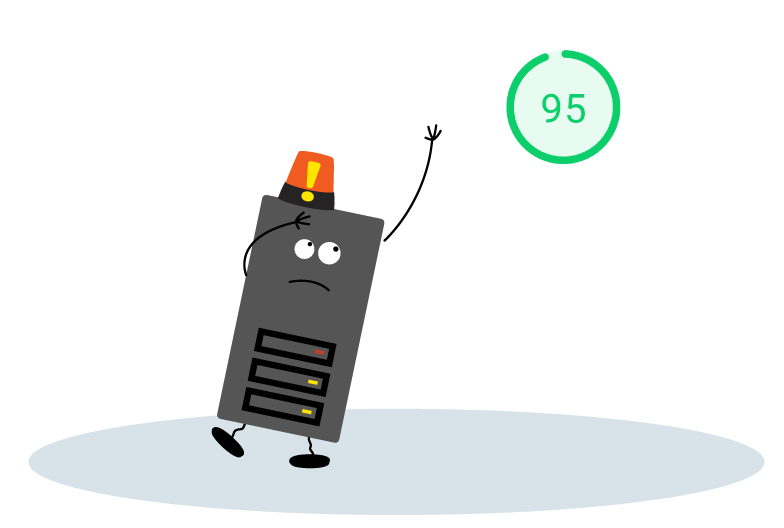 The good news is, your dreams can become a reality with the help of our WordPress specialized optimization services for Google PageSpeed.
These PageSpeed scores will officially be a ranking factor for SEO in 2021 – Google said so themselves so they simply cannot be ignored anymore despite what other sites may claim.
In 2020 and beyond we are going to see a lot of websites struggle to get good PageSpeed Insights scores without some drastic changes made to the site.
There is no magic wand to get any website into the 90+ territory that we have found. Whether it be a WordPress cache plugin or a performance SaaS.
In our experience, the website changes required include but are not limited to the following for WordPress and WooCommerce sites:
Hosting changes and/or upgrades
Site design revamps
Infrastructure adjustments
Theme refactoring or replacements
Plugin audits and custom development to reduce bloat from commercial plugins
Database tuning—in the right places—can reduce TTFB which research shows is critical for Google rankings
Advanced frontend optimizations not currently available in any mainstream plugins
Site-dependent changes that no plugin can do OOTB because it is unique to your site
Here at WP Bullet, we have been developing WordPress plugins to help improve PageSpeed scores for years and they are only available to our private clients we work with on Codeable.
This case study highlights how we optimized a WordPress blog that monetizes with ads and affiliate links. We increased the Google PageSpeed score from orange or 'average' to green also called 'good'.
For this particular site we actually finished our initial optimizations a few days before Google released Lighthouse v6. After the PageSpeed algorithm update, scores went from green 95 to orange 80-something – shakes fist at Google!
As you can imagine, our client was understandably frustrated and upset because they had just invested a significant amount of resources into finally reaching the holy 90+ good zone on Google's hard-to-satisfy PageSpeed test.
Fortunately, they were super understanding and collaborative. Naturally, we had their back and made sure we got the scores back where they belonged: in the green zone!
If you would like to learn about our Google PageSpeed optimization process see this post.
Results Before Optimizations
In this section we show the Google PageSpeed scores before we took on the project, focusing on the homepage and the post they wanted to optimize.
The client had already tried several optimizations to no avail – still no Google green range:
WP Rocket customized and configured by a professional performance service specializing in WordPress
Cleaning the database tables with several free and premium plugins
Adding a basic CDN configuration
Trying several managed hosts promising performance miracles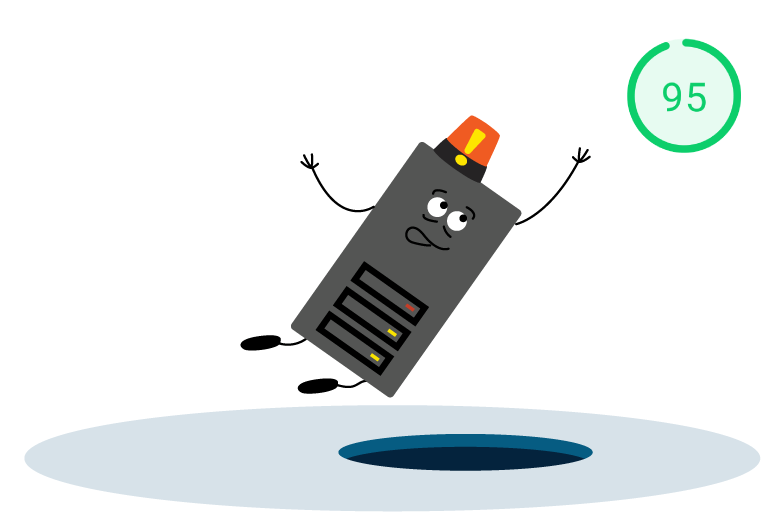 These optimizations were not entirely useless, they did help push the needle from the bad red range to the moderate orange range.
When it comes to Google PageSpeed, most cookie cutter solutions are going to hit a performance ceiling (see the low-hanging fruit optimization myth).
Generic optimizations simply cannot compete with tailored optimizations for your site that are unique to your particular setup and needs.
The fully bespoke optimization service that WP Bullet provides fills the void where standard optimization advice and hobbyist plugins fall short. They simply cannot provide the desired outcome of green Google PageSpeed scores.
We always begin with a thorough audit when Google PageSpeed score improvements are the primary goal. This allow us to create a detailed action plan to execute where we address the highest impact items first so you can start enjoying better performance as soon as possible.
Homepage Before Optimizations
The homepage scored a very respectable 68 since it was a custom theme and not on $5 shared hosting.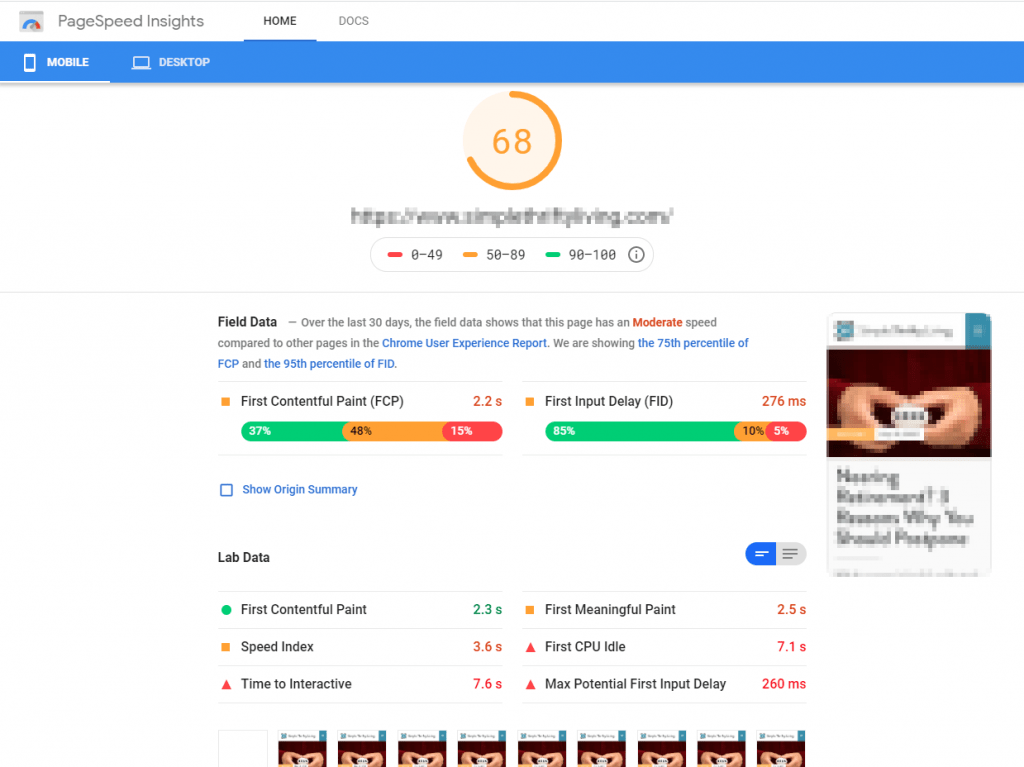 Post Before Optimizations
The post they wanted to boost was scoring a 59 and we can see there is a lot of room for improvements to First Contentful Paint and First Meaningful Paint and First Input Delay.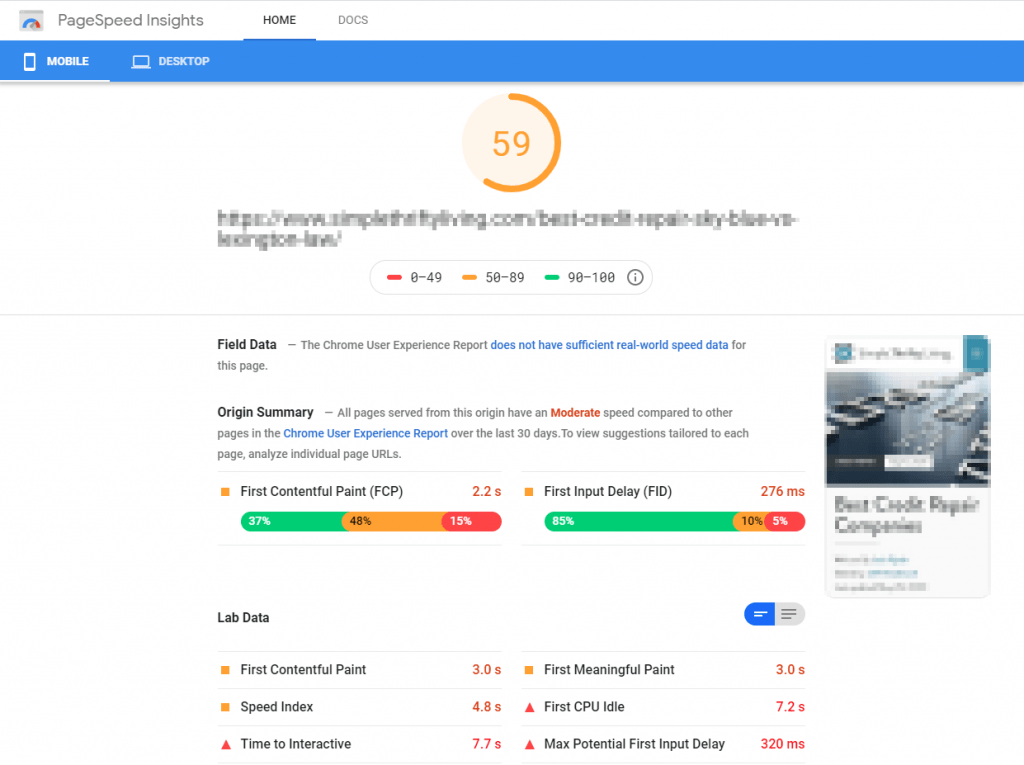 Optimizations Completed
We won't go into the technical details but this was several weeks of careful work for the first optimization phase.
Tailored configuration of our in-house plugins
Customized theme refactoring
Theme asset optimizations to remove bloat
No caching plugins used 😉
After Optimizations Lighthouse v5
Homepage After Optimizations
After the first phase the homepage scored a 98 which is 30 point improvement!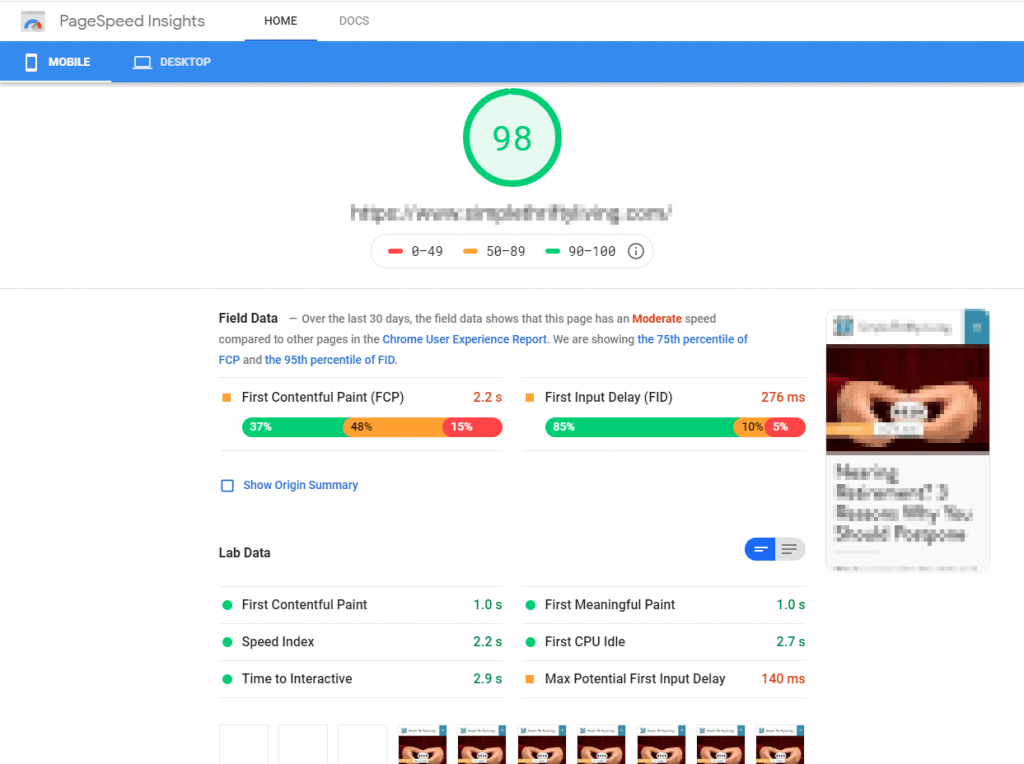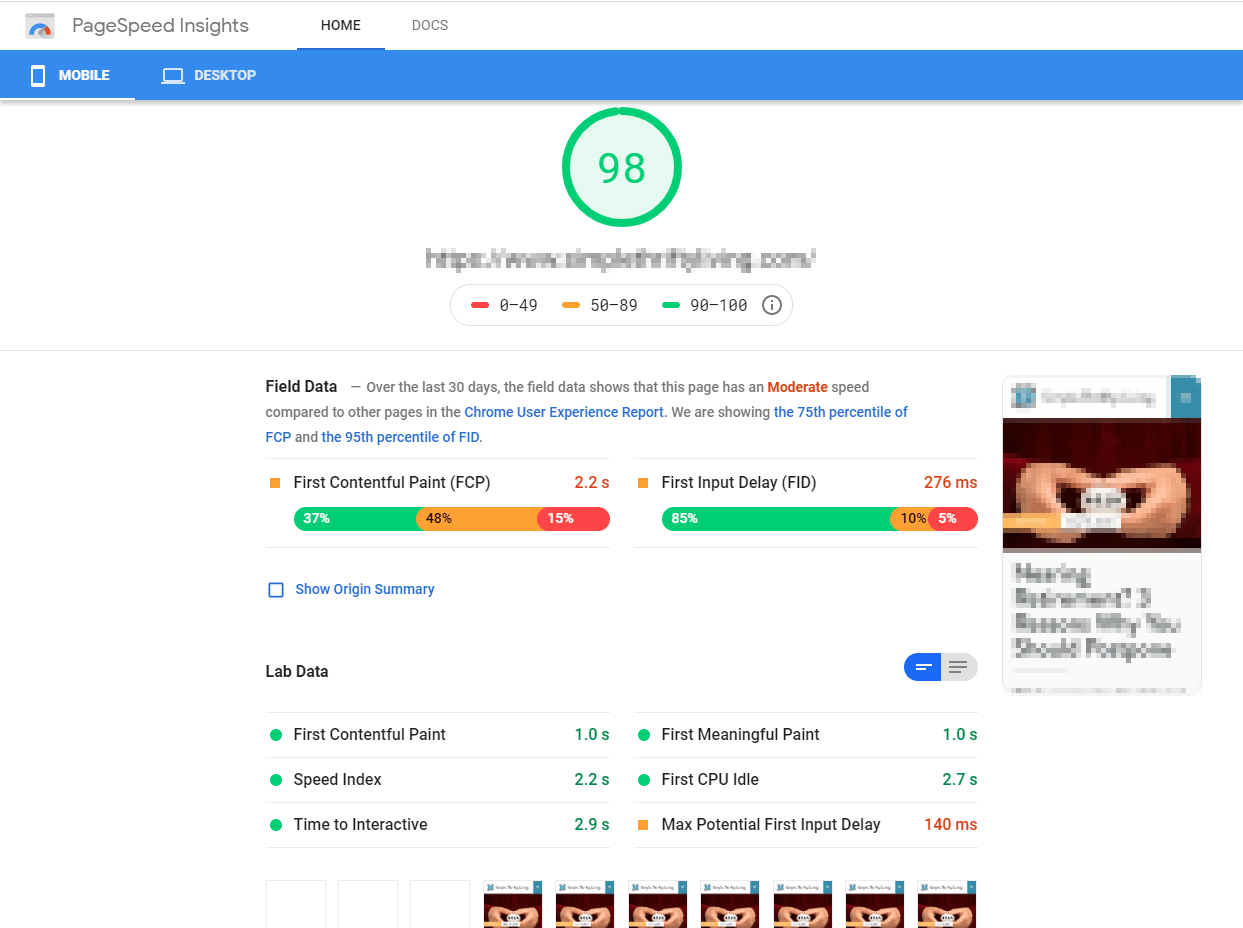 Post After Optimizations
The popular post the owners wanted to rank higher in Google increased from a respectable 59 to an admirable 92 – a 33 point improvement 🙂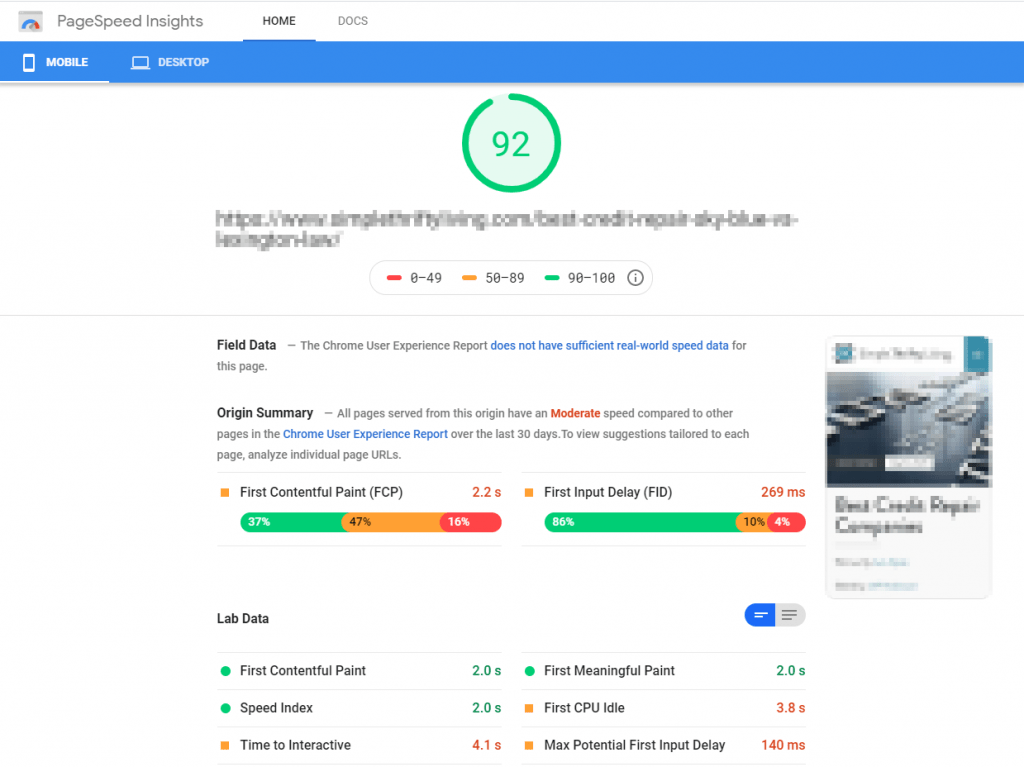 Google PageSpeed Results v6 Before Re-Optimizations
Google released a PageSpeed update a few days after we deployed the changes. We quickly discovered they went from the glorious green zone of 90+ on the mobile scores to the orange 80's :(.
The good news is our fantastic client was no stranger to Google's updates in SEO algorithms so he was incredibly understanding – we are still incredibly grateful for his attitude and tenacity in tackling this with us!
The Google PageSpeed from Lighthouse v6 scores did not dip back to the 60's or lower so we knew the optimizations were still making Google and mobile users happy.
We never back down from a challenge here at WP Bullet, especially when it relates to optimization and providing visitors with an excellent and fast user experience.
Home Before Re-optimizations
We can see Google were happy with the First Input Delay since the last changes, the new challenge was tackling Largest Contentful Paint.
However we were now at an 81 instead of a 98 which was a 17 point drop.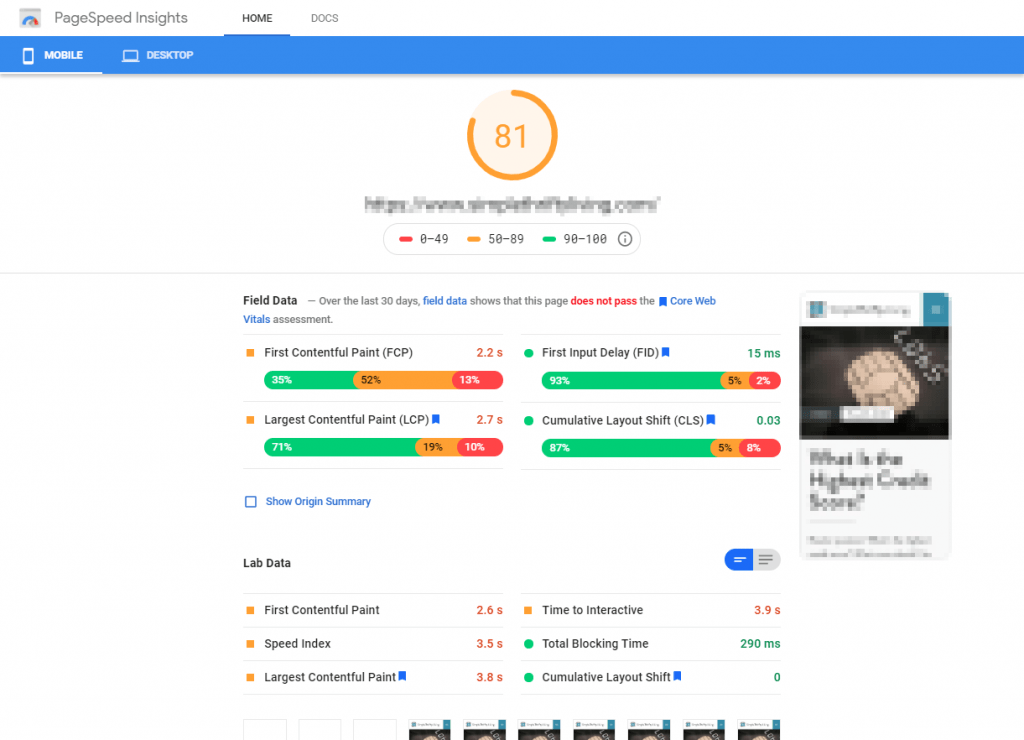 Post Before Re-Optimizations
The post page went from 92 to 85 – luckily only a 7 point decrease.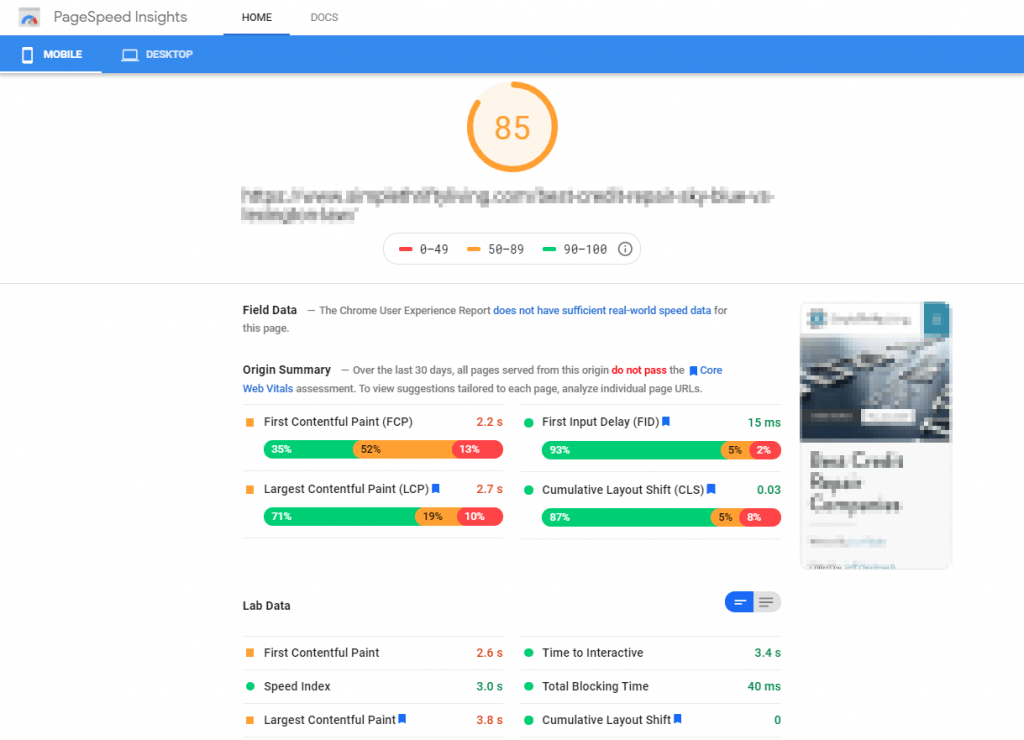 Follow up Optimizations for Google PageSpeed from Lighthouse v6
Google Lighthouse v6 differs significantly in their PageSpeed algorithm by adding core web vitals. The core web vital metrics are
These all needed to be within Google's new limits so we analyzed the site and Lighthouse traces so we could make an effective optimization action plan.
After a couple of weeks of dissecting the results and testing various solutions, we managed to get the site back in green health by improving the core web vitals from the ground up.
After Re-Optimizations Google PageSpeed for Lighthouse v6
With the new Google PageSpeed v6 Lighthouse update for performance, we had to re-optimize the site to get the speed back in Google's good graces.
This time we did the following:
Advanced CDN configuration
Further theme refactoring and optimization
Asset optimizations for icons and graphics
WordPress custom theme template modifications
Rebuilding JavaScript
Let's see the results on Google PageSpeed v6 after the latest optimizations were deployed.
Home After Re-Optimizations
Back to green with a 91, not as high as the previous score of 98 but there were some design changes that were not approved which would have pushed the site closer to 95.
Post After Re-Optimizations
The post page, the most important one for their SEO purposes, actually ended up with a better result hitting 95 where the previous score was 92.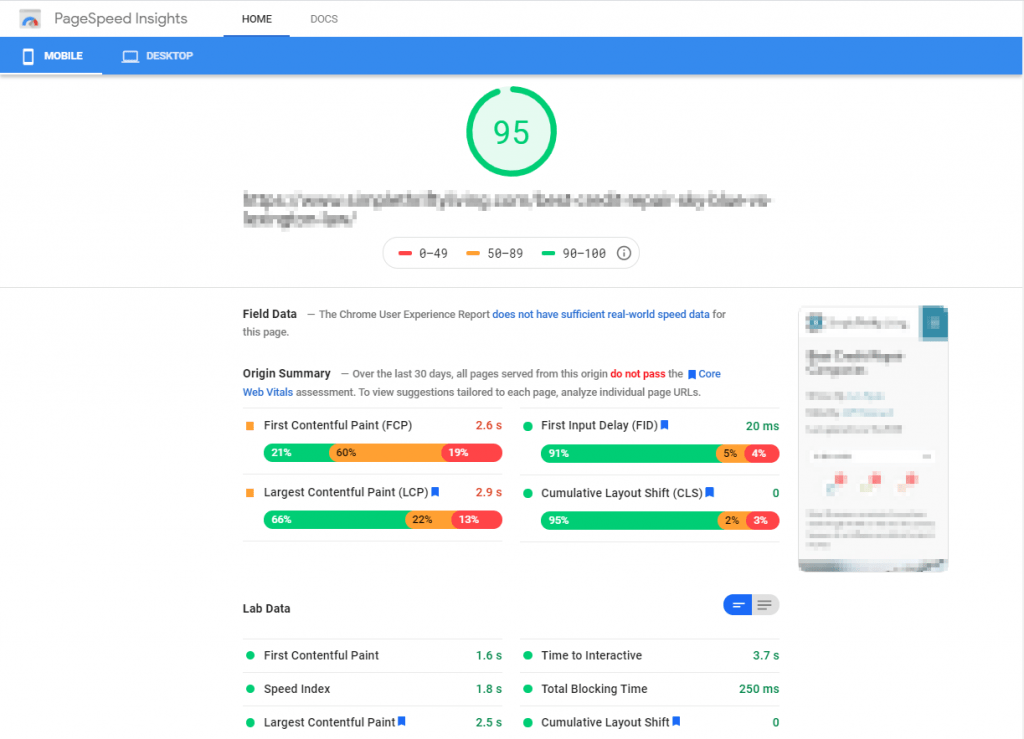 This was a roller coaster of a project thanks to Google's curveball – they do keep you on your toes!
Luckily with the right mindset, approach and tools we were able to work together and save the day 🙂
Now in Google Search Console all URLs are green for the core web vitals.

And look at how the impressions increased!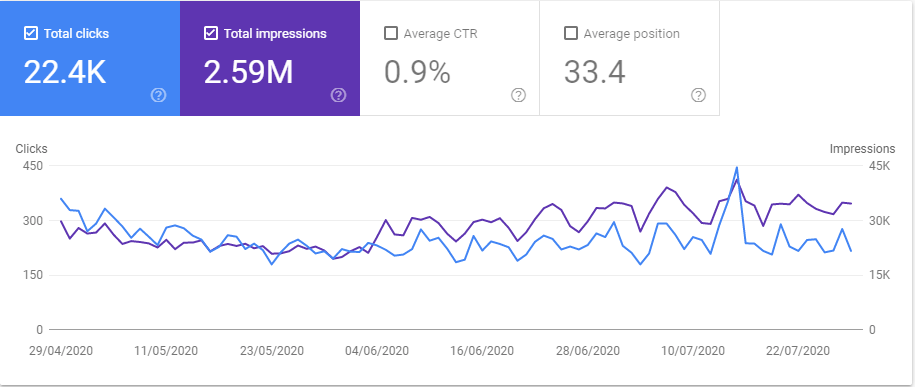 Do you Want Green Google PageSpeed Scores?
Are you tired of trying to get green 'good' Google PageSpeed scores for your website? Read why your site speed still sucks.
Have you read countless blog posts about magical optimization plugins that are failing to deliver results?
Are you concerned your Google SEO rankings may suffer as a result of your PageSpeed scores?
We know some sites can suffer tremendously after Google algorithm updates, don't be complacent with this!
Reach out for a Google PageSpeed audit to see how we can get your site into Google's green zone!
#OptimizewithHeart
Even if you run ads there is hope for your PageSpeed scores.